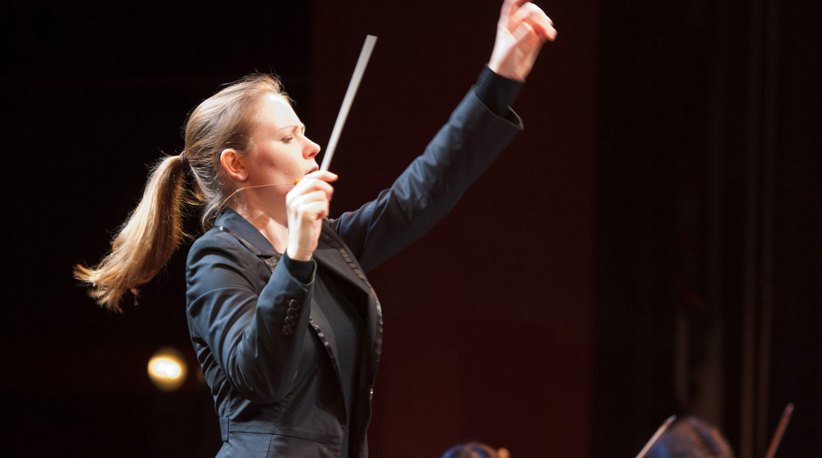 Conducting Orchestras on multiple continents
Gemma New: Marsden 1992 - 2004
Gemma New has accepted the role as Music Director of the Hamilton Philharmonic Orchestra in Ontario Canada. Previously she was associate conductor at the New Jersey Symphony Orchestra and founder/director of the Lunar Ensemble. Gemma received a prestigious Dudamel Fellowship, a Mendelssohn Bartholdy Scholarship and in 2013 was named by New York's Classical Radio Station WQXR as one of the "Top Five Women Conductors on the Rise".

Gemma started violin and piano studies at Marsden Primary and began conducting at age 15. She was student Head of Music in 2004 and went on to gain a BMus(Hons) at the University of Canterbury and New Zealand School of Music. Read more from Gemma's biography ...
2015
We are thrilled to be working with Gemma New, who is known around the world as a rising star. Working alongside our orchestra, we're confident we'll achieve new heights.
Marsha Moffitt, Hamilton Philharmonic Orchestra 2015
Teaching Excellence Award
Caro McCaw - Marsden 1980 - 1986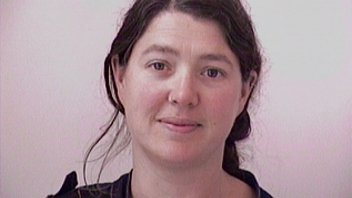 Caroline McCaw has received an Award for Sustained Excellence in Tertiary Teaching. Caro is not only an academic leader and lecturer at the Otago Polytech; she's a designer and advocate for community-based arts and culture. She's been with the School of Design since 2006, inspiring and mentoring students to become well-adjusted confident graduates that have a social conscience.

"I really like helping students to see they have a place in society as creative people, and they can go out and change the world. I like to help them find ways they can do this so they are passionate about their work and hopefully, can respond to some sort of community need. When those things come together its magic."
2014
Caro builds partnerships with her learners and negotiates with them to ensure that the learning and assessment methodologies used are culturally appropriate and embed different philosophies and approaches to learning and achievement. As a result, learner success has soared with Māori success peaking at 100% in 2013.
Teaching Excellence Citation, 2014
Mezzo Soprano awarded Scholarship
Bianca Andrew - Marsden 2004 - 2007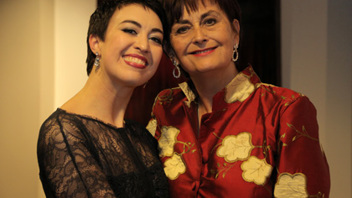 Bianca Andrew, pictured here with Lexus Song Quest international judge Kathryn Harries, has been awarded the 2014 Kiri Te Kanawa Scholarship as the singer with outstanding potential for an international singing career. 


Announcing the award Kathryn Harries commented that the standard of singing in the 2014 Lexus Song Quest Grand Final was exceptional. "Bianca is the complete package. She is highly intelligent as a person, a singer and a musician, and she is a tremendously skilled communicator and a brilliant actress. She has all the talent to have a very successful international career."  The scholarship sponsored by the Kiri Te Kanawa Foundation is a cash prize of $15,000. Bianca is studying her Master of Music (Voice) at London's prestigious Guildhall School of Music and Drama.
2014
International study is an essential stepping stone for developing an international career and we are delighted to be able to support Bianca on her journey.
Dame Kiri Te Kanawa, 2014
Corinna Howland - Marsden 2002 - 2006
Corinna Howland accepted a William Georgetti Scholarship to study for her PhD in Anthropology at Selwyn College, Cambridge. She holds the following scholarships in an honorary capacity: a Cambridge Commonwealth Prince of Wales Scholarship, a Gordon Watson Scholarship, and a Shirtcliffe Fellowship.
As part of her PhD Corinna has been researching quinoa growers in South America and the relationship between quinoa production and indigeneity. She travelled to the Andes mountain region of Bolivia to live with, and work alongside, quinoa farmers in the Oruro Province, returning to Cambridge to write her thesis.
2014
As I have progressed through my studies, I have been very grateful to have been a Marsden girl - I think I had the best start possible, in that Marsden was instrumental in developing a strong work ethic, self-belief, and a sense of social responsibility in a supportive and enriching environment.
Corinna Howland, 2014
Top Scholar receives Freemasons Scholarship
Lucy Sulzberger - Marsden 2006 - 2010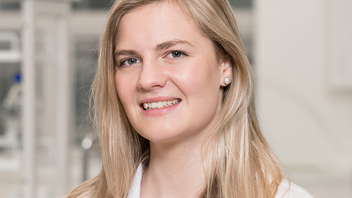 In 2014 Lucy Sulzberger was one of 30 top scholars to receive a $6000 Freemason's University Scholarship towards her bachelor of medical science honours degree in Otago. She has been working with Professor Swee Tan and the Gillies MadIndoe Research Institute in Wellington, pioneering the future of cancer treatment. Read Stuff article
2014
Research is quite different to medicine, which can be quite broad. I enjoy looking for answers where there aren't any.
Lucy Sultzberger, 2014
Winner of NZ Light Leather Award
Jessie Wong - Marsden 2003 - 2010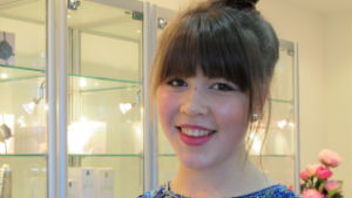 Jessie Wong was only eleven when she learnt to sew. It was the first tentative step towards a career in fashion. Now, with a degree from Otago Polytechnic under her incredibly stylish belt, she's the proud of owner of her own label, YU MEI.
In 2014 Jessie won the inaugural NZ Light Leather Award at Wellington Fashion Week as well as an AMP National Scholarship to help her grow her work. Her determination and drive to pursue her love of fashion is reflected in all that she does. 
2014
I love fashion that doesn't take itself too seriously. It's playful and fun but has a sassy, rebellious edge to it.
Jessie Wong, 2014
Massey Student Designs AFL Guernsey
Kahurangi Douglas - Marsden 2001 - 2008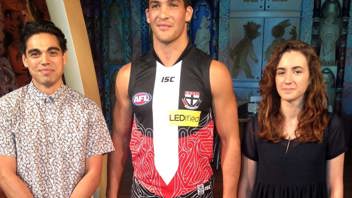 Kahurangi Douglas studied design at Massey University and completed her Bachelor of Design (Hons) in 2013. On ANZAC Day 2014 she got the exposure many professionals can only dream of, when St Kilda AFL players ran onto the field at Westpac Stadium in front of thousands of fans, wearing a guernsey she helped design. Kahu and fellow student, Jason Sheardown, created the guernsey to be worn at the special ANZAC Day AFL match. Their contemporary Maori design emphasised the links between NZ and Australia through the Anzac journey, using authentic motifs. See full Massey University article.
2014
It is such a significant day between our two countries and this is quite a unique platform to acknowledge this relationship.
Ben Davies, St Kilda AFL General Manager - Commerical Projects, 2014
Actress makes mark around the world
Anna-Louise Plowman - Marsden 1985 - 1989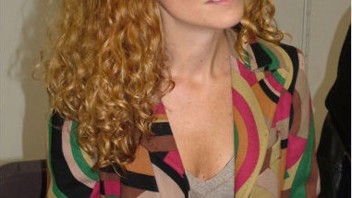 After finishing college, Anna-Louise studied acting at London Academy of Music and Dramatic Art and the Lecoq School in Paris. She has worked in theatre, film and television in London, Tokyo, Hong-Kong, Dublin, Sydney & Paris, probably most well-known as Dr Sarah Gardner in Stargate SG-1 and Dr. Annalese Carson-Spence in Holby City.
In 2001 she married Toby Stephens who is the son of actress Maggie Smith and they have three children. IMDb
2013
Lawyer turned Fashion Designer
Yuge Yu - Marsden 1997 - 2001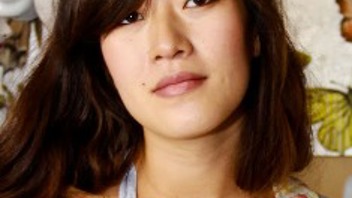 Yuge Yu left Marsden in 2001 and went on to study Law. She was preparing to set up a law practice in Melbourne when her home was burgled. So shaken by the experience, she questioned her career in law and decided to start a clothing label which debuted in 2012. Her designs are sold in boutiques throughout Melbourne and Sydney. She is married to artist David Bromley and they have a daughter, Wen. Stuff Article 12 June 2013
2013
While attending Samuel Marsden Collegiate, Yu had loved making her own clothes after she received a sewing machine for her 13th birthday.
Jazial Crossley, 2013
Cricketer Receives first Women's Professional Contract
Sian Ruck - Marsden 1997 - 2001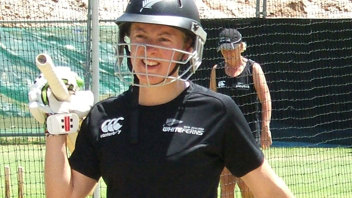 White Fern Cricketer and Marsden Old Girl, Sian Ruck was one of four New Zealand women to be awarded a professional player's contract by the NZCPA in 2013.  Each contracted player will also work closely with a major Association to benefit grassroots women's cricket by increasing awareness of the game at school and club levels, helping with female coaching development and recruitment and mentoring upcoming representative players. 
2013
Wellington Student Crash Tests Industrial Machinery
Victoria Stephens - Marsden 2004 - 2008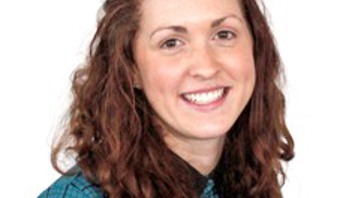 Victoria Stephens, graduated from the University of Canterbury Mechanical Engineering Department with Honours in 2013. In her final year she was part of a research and design team working on a project for Trinder Engineers to assess the driver's cab of their industrial vehicles for crash safety. 
See full press release.... Victoria is currently employed as an engineer for Becca.
2013
The Department of Mechanical Engineering congratulates the students and their families for the significant achievement.
Professor Milo Kral, Head of Department, University of Cantebury, 2013
Former Football Fern signs on for National Development Role
Emma Humphries - Marsden 1999 - 2004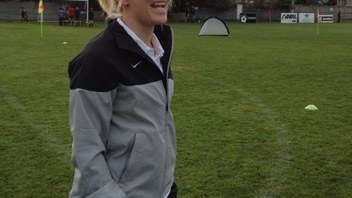 Former Football Fern Emma Humphries took over responsibility for the continued growth of women's football in New Zealand after being appointed to the role of Women's Development Manager at New Zealand Football in June 2012.

Emma, 25, played 12 times for the Football Ferns including all three matches at the 2007 FIFA Women's World Cup and has spent the last 18 months working as a football development officer for Capital Football. Emma's final year at Marsden was 2004. 
2013
Otago student wins inaugural economics prize
Anna Robinson - Marsden 2005 - 2009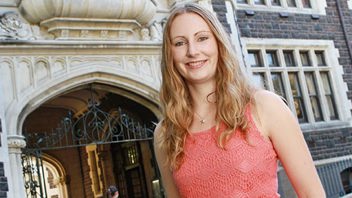 Otago Economics student Anna Robinson was the 2012 inaugural recipient of a special prize established in honour of former New Zealand economist Sir Frank Holmes.

Sponsored by the Hugo Group, a collection of the country's top chief executive officers, and administered by Motu Economic and Public Policy Research Institute, Anna received $3500 in her Honour's year of her Bachelor of Commerce degree. 
2012
Anna stood out in a very good field of candidates from New Zealand universities this year and we are delighted to be able to support her to complete her Honours year. It is exciting to see so many talented young students pursuing a career in economic and policy research.
Motu Economic and Public Policy Research Institute, 2012
Designing Structures that can withstand Loads
Isabella Franks - Marsden 1998 -2006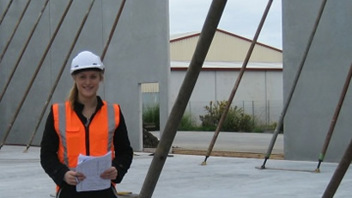 Isabella Franks is forging a career in the Industrial Engineering sector as a structural engineer with AECOM.

Bella Franks grew up thinking outside the square and by Year 13 she decided she would study engineering in Canterbury. One of her summer jobs during university had her working on the structure of the new Supreme Court building in Wellington. She received her Bachelor of Engineering (Hons) majoring in Civil Engineering in 2010.
2011
When I was a child I was quite a tomboy, I got Lego and a motorbike instead of Barbies.
Isabella Franks, 2011