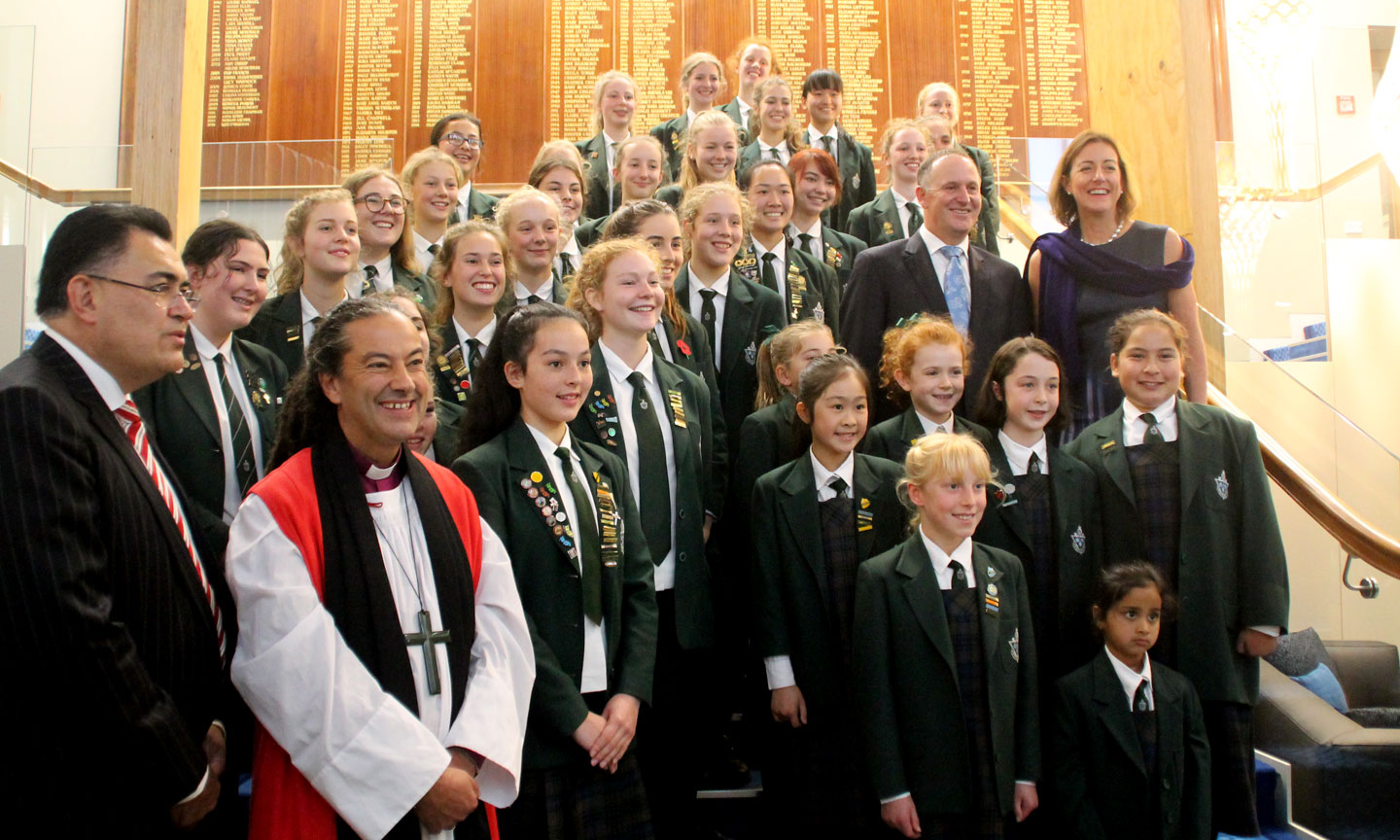 Prime Minister John Key opens the heart of Marsden
It was really special to have Prime Minister John Key open our new building Te Manawa o te Kura today. Invited guests, students and staff packed the auditorium to witness this special moment in Marsden's history. Featuring beautiful music from our handbells, choir and orchestra, our girls sang their hearts out, heralding the opening of the new heart of the School.
James Johnston, Chairman of the Management Board, commenced proceedings with greetings in Maori and then went on to talk about the brave decision the Board made to demolish the old earthquake prone building and replace it with something safe and fit for 21st century learning. Principal Jenny Williams was "excited to gift this building to current students, staff, and generations of girls to come" and thanked the many, many people who have made this happen. Bishop Justin said this was a place of transformations and that Marsden was "his favourite school". Then Prime Minister John Key spoke warmly and personally about his humble beginnings, setting goals and not being afraid of failure, apparently at 11 years old, not only did he want to be Prime Minister, he also wanted to be an All Black! He went on to say that women in New Zealand were the first to get the vote, women have held all the top jobs in the country and that education was the very best thing our girls could do to help themselves achieve their goals.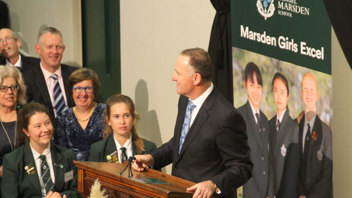 The plaque was unveiled, and the cake was cut by one of our oldest and youngest students, Head Girl Nina Richardson and Sai Parekh from Year 1. The official party followed Bishop Justin and arch deacon Steven King as they blessed the new foyer and then it was a chance for everyone to have a good look at the new building.
Designed by Athfield Architects, it is finished inside with natural wood, pops of colour, work spaces and study nooks, with an extensive green vista, providing a peaceful space for collaborative work and independent research and preparation.  Connecting the school from end to end the new building takes Marsden from the past into the future, while retaining links to the schools' long history with the restored Honours' Board and retention of the original 1926 entrance. Modelled on best practice work places the Learning Studios are already loved by our students. 
Marsden's new building is open for viewing by the public and anyone interested in the future of education on 12, 13, 16 and 17 May between 11am and 2pm. The students look forward to showing people around their new Learning Studios, foyer and iCentre, the long awaited heart of the school, Te Manawa o te Kura.