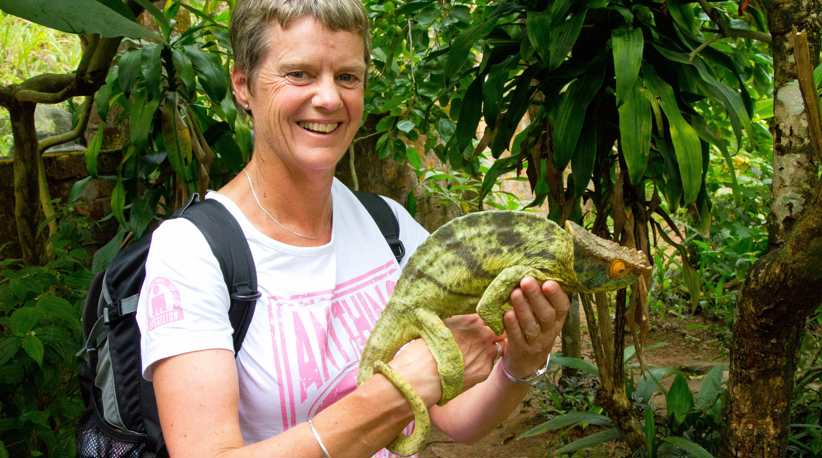 Inspirational Head of Science
Gabrielle Gunn joined the Marsden Science Department in 1982 working part-time and then full-time until she was appointed Head of Science in 2001. Her contribution during the last 25 years has been extraordinary, particularly in the Science department which has developed into a highly successful area of the school.
Gabrielle's passion is `thinking about science' and engaging students in science by introducing contexts that they will find engaging and meaningful. Science is now one of the most popular subjects with senior students, with a large number of girls moving onto study at tertiary level.
Gabrielle uses her holidays to travel extensively to exotic and interesting places, enabling her to bring her passion for biology to life in her classroom with real stories, experiences and photos.
She has a keen sense of community and has worked with students to raise funds to support the tuatara breeding project at the Victoria University of Wellington and to support replanting in Costa Rica to provide green corridors for the Great Green Macaw. Spike the tuatara is a regular visitor to Marsden.
In the words of one of Gabrielle's former students Kate Burgess NZ winner of the Brain Bee competition who competed at the world champs in the USA…
"Mrs Gunn put a tremendous amount of effort into helping our team prepare while also teaching a number of Cambridge and Scholarship courses outside class time, and still managed to find time at lunch or before school to tutor us, explaining difficult new concepts with endless patience and a sense of humour, teaching us study techniques and supplying us with a huge number of resources, that she had created in her own time. Thanks to her tutoring, support and encouragement, our team had confidence in ourselves and our preparation."
Highly respected by her colleagues at Marsden, Gabrielle is seen as an innovative and active leader, a 'quiet achiever' who has used her considerably knowledge and passion to promote Science Education. In 2015 Gabrielle was a most deserving winner of an ISNZ Honours Award for Service to Science Education.
Gabrielle not only engages and challenges her students into performing at their best, she leads by example and challenges herself. In 2018 she became the oldest woman to swim across Lake Taupo, joining an elite club of marathon swimmers who have completed the 40.2km swim. From Waihi in Turangi to the yacht club in Taupo it took her 16 hours and 31 minutes, starting and finishing in the dark.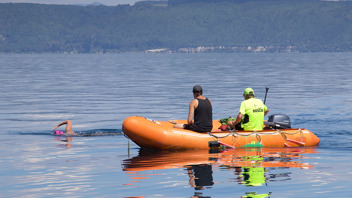 A phenomenal challenge, and extraordinary achievement by Gabrielle who is truly an inspiration to us all!