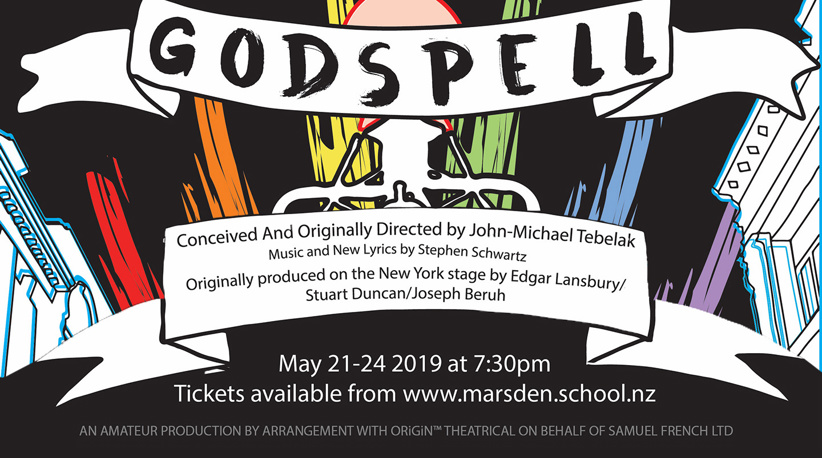 Marsden proudly presents our fabulous new musical production of
GODSPELL
Prepare ye for the timeless tale of friendship, loyalty and love based on the Gospel According to St. Matthew.
The show runs for four nights from Tuesday 21 - Friday 24 May at 7:30 in the Marsden Auditorium, Marsden Avenue, Karori. 
Godspell Story
The narrative centres around a group of philosophy students who gather together on the familiar tiles of Cuba St to debate the existence of a God. Cue Jesus, who has come to spread an important message. Jesus enlists the help of the young philosophers to enact a series of parables from the gospel of Matthew. The prodigal son, the sheep and goats, the adulteress and the Pharisees all have a part to play in drawing together this community. The group eventually comes to understand a shared vision - that together we can create a world of kindness, tolerance and love.
Tickets on sale now:  Adults $20 / Students $16.
Godspell Ticket Sales – Please read before ordering
Step 1: ORDERING
Complete the form on the website to order your tickets.
Note that adults and senior citizens are the same price.
Students are those still at school.
Step 2: PAYMENT
Pay for your tickets online through internet banking, using your SURNAME on your booking form as the reference.
The payee is MARSDEN.
We ask that you please check your total carefully before paying and pay at the same time that you order your tickets.
Step 3: COLLECTION
Please note on the form if you wish to collect the tickets prior to the performance night from the school office before 4pm daily, otherwise, they will be ready for collection at the door, under the SURNAME you entered on your booking form.
PLEASE NOTE:
Tickets are non-refundable so please order carefully.
Due to the nature of our auditorium, seats are not allocated, it is first in, first served. The doors open at 7:00pm.
There will be one 10 minute interval and the show is approx an hour and a half long.
If you have any questions about your tickets, there is a space on the form for that and we will get back to you.
If you have any questions, please ring the school office on 04 4768 707 or email sarah.wilson@marsden.school.nz