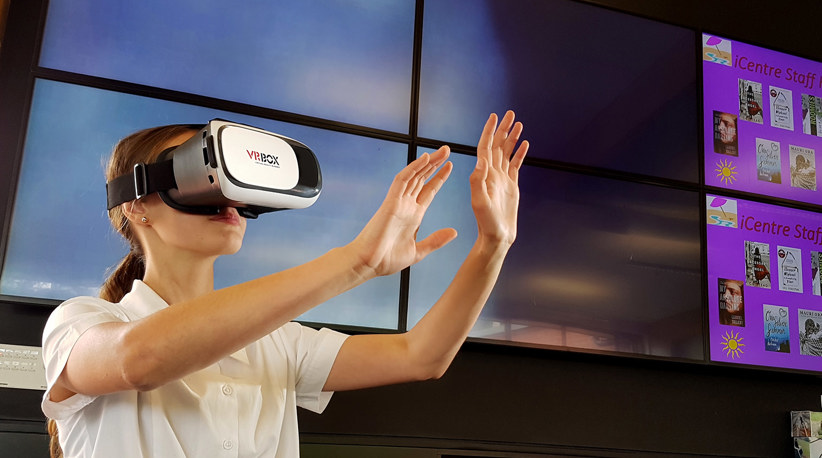 Preparing Students for the Future
Future-focused Learning at Marsden is about inspiring students to be thinkers, creators, collaborators and problem solvers. A willingness to experiment, to make mistakes, to learn, unlearn and relearn is a strength. Our girls will graduate having explored many options, and will confidently move onto tertiary education and the world beyond school with an open mind about change, effort, making mistakes and with an understanding that learning is a lifelong process.
A growth mindset combined with strong academic performance, across a range of curriculum areas, sets students up for challenging and rewarding future learning as well as meaningful, enjoyable work.
Visible Wellbeing
Foremost, our Visible Wellbeing approach is key in preparing students for their futures. Visible Wellbeing practices are integrated across all year levels, subjects and co-curricular activities, because high levels of wellbeing boost personal as well as academic outcomes. Visible Wellbeing gives each student a toolbox to enhance their own wellbeing whilst at school and beyond.
Learning in Years 7–13
Here are some of the ways we are deliberately focus learning on the skills our students need for the future:
Technology
Technology is integral to daily life at Marsden. As well as being an area of learning in its own right, technology is an essential tool. Students bring their own digital device and are actively developing their digital fluency and their digital capabilities through a range of learning experiences.
Juniors designing and developing digital outcomes
Students are learning to be digitally capable as creators in a number of digital spaces. For example:
In Year 7 Social Sciences students find great success creating fortnightly podcasts about interesting current events. Year 7 musicians code using OSMO, and in Digital Technology and Art they develop skills using the laser cutter and Adobe Illustrator. 
In Year 8 Health, students present their understanding of nutrition in augmented reality. Art students learn to use Photoshop and in Music they work to master Garageband and iMovie for recording and editing music.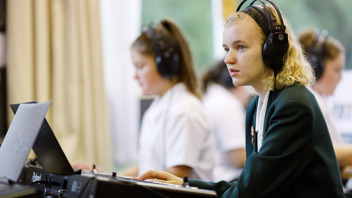 Year 9 and 10 students progress on to a wider range of platforms which include creating augmented realities in Religious Education, storymapping in Geography, composing with Sibelius in Music, and using 3D printing. 
Senior Digital Technology – Learning Partnerships
Our relationship with the world beyond school is an essential aspect of future-focused learning. We actively foster relationships with the business and wider community so that students can experience 'real-life' work. In 2019 Year 11 and 12 Digital Technology students enjoyed time with the IT team at the ANZ Bank and experienced problem-solving in an industry environment. The previous year Year 12 Digital Technology spent a week in central Wellington at Datacom Head Office, working on a virtual reality project with the support of their software engineers and technology graduates.
Expanding Student Horizons
'Your degree does not define you' – Mentor Day
Connecting our students with Marsden Old Girls and industry leaders is a wonderful way to inspire their learning and open their eyes to a diversity of future pathways.
We invited 12 successful young entrepreneurial women to spend the afternoon at Marsden and share their stories.  The message was 'your degree does not define you'.  Their common theme was the importance of being open to opportunity, expecting twists and turns along the way and following your passion. This was a fantastic mentoring opportunity and left our students with a lot to think about, as they contemplate their next step. https://www.marsden.school.nz/about/news/2019/july/mentoring-day/
Innovation Series
We invite innovators, collaborators, thinkers, creators, problem solvers, and people who aren't afraid to do things differently, to speak at our Innovation Series, held once a term.  These events are much enjoyed by our girls, parents and members of the public alike and always leave the us with something to think about.
Read more about the Innovation series here.
Esports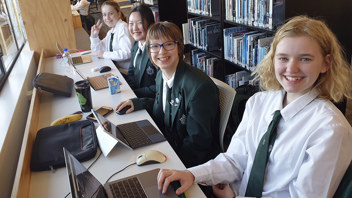 In 2020 Marsden recognised the worldwide growth in Esports (electronic sports) participation and decided to offer it to our students. Teams compete in the College Sport Wellington Esport competition; learning about teamwork, respect, discipline and resilience. Internationally Esports is incredibly lucrative and is a real career possibility for students interested in the tech industry.
Culturally Competent Students
'Manu Rere Ao', the Marsden vision, is 'the bird that flies the world'. Marsden has made a commitment to prepare students to participate in and contribute confidently to Aotearoa New Zealand society and take that understanding with them as they travel the world.
Te Reo Māori is taught to all students to Year 10. Students across year levels encounter Māori concepts, practices and skills in a range of curriculum areas, such as through a Marae visit in Year 7 Social Sciences, the creation of artifacts in Year 9 Technology, the 'Perspectives of Aotearoa' course in Year 10 and a moving visit to the pacifist settlement of Parihaka in Year 11 History. Marsden values its responsibility to fulfil the obligations of the Treaty of Waitangi, in strengthening our understanding of Te Reo (language) and Tikanga Māori (customs and practices).
Here are some of the ways students enjoy building their cross-cultural understanding:
In Te Reo Māori students have the opportunity to participate in lively language learning classes, develop their confidence as speakers, learn about tikanga and understand the unique role of te reo Māori and te ao Māori in New Zealand society.
Perspectives of Aotearoa is individual project-based learning which occurs at Year 10. In undertaking a personal project of their own choosing, students enhance their understanding of te ao Māori, while simultaneously creating a product that makes te ao Māori more visible throughout the school. The project develop students' problem-solving, creativity, curiosity, personal management and organizational skills and encourages them to explore new territory.  These are all essential skills for the 21st century learner.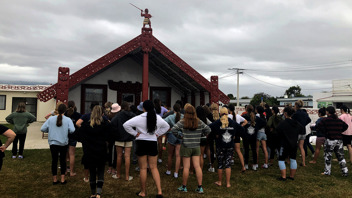 An overnight marae experience is part of the Year 10 programme.  Its purpose is for the girls to gain an appreciation of traditional and contemporary Māori culture and an appreciation of the marae and its kawa. It also gives them an opportunity to learn about communal living and dynamics.
Mātauranga Māori is about a Māori way of being and engaging in the world – in its simplest form, it uses kawa (cultural practices) and tikanga (cultural principles) to critique, examine, analyse and understand the world. This is taught as part of Life Skills to students in Year 13. As students prepare to leave Marsden, it is essential that they are able to participate confidently in bi-cultural contexts in New Zealand.
Our popular and vibrant kapa haka group is rapidly growing as students from Years 7 to 13 embrace the opportunity to learn waiata, haka and poi and perform at special Marsden occasions.
Students of many different cultures characterise the Marsden family and there are many opportunities for leadership and to expand cultural understanding beyond the New Zealand culture. These occur both informally and within the curriculum through language, music, dance and cultural learning in a broad range of subjects.
Project-based Learning
Prominent educator Professor Yong Zhao, in his book Reach for Greatness: Personalizable Education for All, advocates for the personalised passion project.  There are a number of opportunities at Marsden whereby students can 'reach for greatness' through extended personalised project-based learning. Such opportunities promote innovation, entrepreneurship, curiosity, creativity and encourage experimentation. They support student passion and enhance strengths.
Year 9 Remarkable Time
In Year 9, students have two terms to work on a project of their own choosing. They can follow a personal passion, use their strengths and in doing so, develop new strengths, take risks, make mistakes, pick themselves up and keep on trying. With guidance and mentoring, students are encouraged to work independently, problem-solve and take pleasure in their learning. There isn't a right or wrong answer, but having the courage to try something new is encouraged. This skill and attitude is highly sought after in the world beyond school and is the hallmark of some of the greatest entrepreneurs of our time.
In 2017, as part of her Year 9 Remarkable Time project-based learning, Araraina Takuira-Mita wrote a school waiata, incorporating our history, values and motto. By 2018 that waiata had become a fully integrated part of our school. Araraina drew on her skills as a musician and her fluency in te reo Māori to pursue her passion.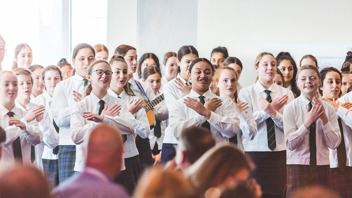 In 2019 Wynter Tickle developed a personal quake detector. She combined her passion for science, a willingness to experiment and a problem that needed solving, to develop her product that went on to win her a number of awards at the Wellington Science Fair competition.
Other project-based learning opportunities
The Robotics Club for students in Years 8 to 10 is a great opportunity to work on projects in the context of robotics. The club encourages girls who are enjoying their learning in technology to take it to the next level with a goal of participating in national competition. It encourages girls to work collaboratively and creatively and be willing to experiment with new aspects of technology. 
All students in Year 8 Social Sciences carry out a social action campaign in which they aim to bring some social justice to a group of people currently facing injustice. This is rewarding as we see students step out of their own experiences and take on an individual, or group project to make a difference in someone else's life.
Year 10 Science supports the students' essential skill development by leading them through a sustainability project, where they take on an aspect they feel passionate about changing, and develop a service or product designed to impact that area.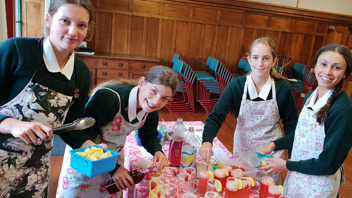 In Year 10 Social Sciences, all students participate in the 'Like a Boss' programme run by 21C Skill Lab. This learning experience allows all students to focus on meeting one of the Sustainable Development Goals by developing their entrepreneurial skills by developing a business which is either a service or a product to meet that need in society or to raise money to meet the need.
Education is not a linear process of preparation for the future: it is about cultivating the talents and sensibilities through which we can live our best lives in the present and create the best futures for us all.
Sir Ken Robinson, international educationalist in Out of our Minds - Learning to be Creative
Cross-curricular Learning
'Trash to Flash'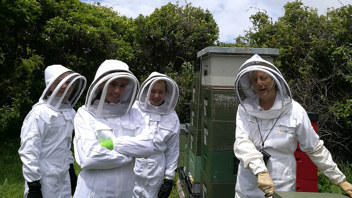 In the spirit of recreating, recycling and building communities, we set up our 'Trash to Flash' initiative in late 2019. This will be an ongoing programme for students in Years 7 to 9 where they learn about sustainability, foster their own creativity and possibly discover a passion to pursue in the future. Trash to Flash is about looking after the future of our planet while nurturing the wellbeing and creativity of the students. Our first Trash to Flash venture gave the girls the opportunity to try technological challenges, such as creating bee hotels using laser cutting and 3-D printing, making go-karts using recycled wood and wheels, upcycling fabric for blankets, and re-discovering the skills of marmalade-making. Some girls tried their hand at raranga (weaving), others visited a local beehive to get up close and personal with the bees and also made beeswax wraps. A number of girls discovered their own entrepreneurial spirit during the day - while others found a new hobby.
Science and Art Collaboration
The overarching aim of the Science Art collaborative unit for Year 10 is to explicitly link and highlight the methodical and creative aspects of both Art and Science to facilitate a deep understanding of New Zealand's unique biodiversity and the threats to this. Students produce a poster of two endemic animals or an endemic plant and animal, as a response to their research and field trip. In both Art and Science the students are empowered to come up with their own creative outcomes. They develop a deeper understanding of New Zealand's ecology and take more ownership of their learning.
Primary School
Marsden Primary staff are passionate about providing cross-curricular and authentic contexts for future-focused learning. Learn more ...
At Marsden, we think it is important that our students head into their middle and upper school education with a curious mind about the breadth of possibilities that lie out there in the world beyond school - and we aim to encourage everyone to strengthen their core skills while exploring creativity, problem-solving and critical thinking so they are well equipped for the future world of work.
Jenny Caldwell – Deputy Principal