Inspirational Head of Science
Gabrielle Gunn joined the Marsden Science Department in 1982, leaving to be at home with her children in 1984 then returning part time. She was appointed Head of Science in 2001. 
Engaging students "Thinking Science"
Gabrielle's passion is engaging students in Science and introducing contexts that they will find relevant and meaningful. She instigated the "Thinking Science" programme for Year 7 and 8 and prioritises learner agency and enhancing students self confidence and belief.  Her impact on the Science Department at Marsden cannot be underestimated,  Science is now one of the most popular subjects with senior students, with a large number of girls moving on to study at tertiary level.
Travel to exotic places
Gabrielle has travelled extensively to exotic and interesting places, enabling her to bring her passion for biology to life in her classroom with real stories, experiences and photos.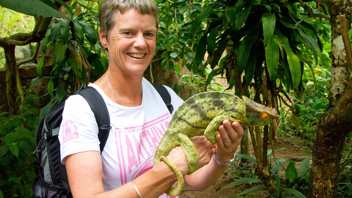 Enviroschools Coordinator
She is the Enviroschools coordinator and supports the student environment committee / 'Roots and Shoots' club with their activities. The group was invited to host Dr Jane Goodall and students from a number of schools in the Wellington region in 2019. This was a wonderful opportunity for students to share their passion for the environment and for making a change with each other and with Jane Goodall. Gabrielle initiated the school science garden, which includes alpine and kitchen sections.
Innovative and active Leader
Highly respected by her colleagues at Marsden, Gabrielle is seen as an innovative and active leader. In 2015 she was a most deserving winner of an ISNZ Honours Award for Service to Science Education. In 2018 she became the oldest person to swim across Lake Taupo, joining an elite club of marathon swimmers who have completed the 40.2km swim. From Waihi in Turangi to the yacht club in Taupo, it took her 16 hours and 31 minutes, starting and finishing in the dark.