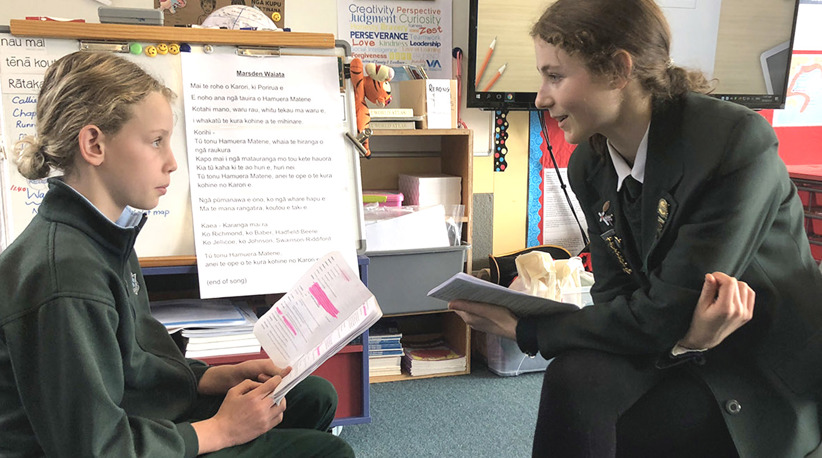 Marsden School Leavers reflect on their school years
Emilia Skelton, Year 13, 2020
Coming to Marsden has allowed me to form life long friendships, grow in confidence and experience a wide range of activities that I never would have had the chance to. I have felt cared for and looked after throughout my time here.
Marsden has given me the ability to believe in, back myself, and go for whatever it is I'd like achieve. To maintain a balance between working hard and having fun.
Emily Suhr, Year 13, 2020
Madison Taylor, Year 13, 2020
My Marsden education has instilled me with a strong sense of self confidence, freedom of expression, willingness to speak my mind and opportunity to involve myself in the academic, cultural and sporting life of the school, and succeed in all of them.  It gave me the opportunity to grow and I am now ready for the real world and rest of my life.
Skyllar Mcclelland, Year 13, 2020
I've made a bunch of lifelong friends and have been introduced and offered a range of various sport and cultural activities that I am not sure I would otherwise be able to participate in. I have been exposed to a range of different subject areas which have helped to develop my enjoyment for science subjects. Being introduced to hockey at Marsden has lead to me representing my region at the highest level which has lead to me being introduced to a range of people and scholarship opportunities overseas. 
Bella O'Meeghan, Head Girl, 2018
To be a part of a supportive, driven community that motivates me to be my best and celebrates success. Marsden has offered me a wide variety of opportunities, especially chances to give back to the community - service is now something I prioritise and look forward to continuing to do beyond school :)
Simran Bechan, Year 13, 2018
Coming to Marsden has absolutely changed my perspective of life and opened up many opportunities for me. Marsden education has allowed me to see the bigger picture of the world we live in as well as understand the importance of helping others. 
The education Marsden has given me has extended so much beyond just academics! So many of the personal skills I've gained have been developed here, and I've really gained an appreciation for stepping outside your comfort zone and giving everything a go.
Anjali Gentejohann, Year 13, 2018
Franziska Sievers, International Student, 2020
Marsden gave me an international school experience in which I learnt a lot of new things.  I learned about subjects like Classics but also about a good student  community, and I'm now ready to return to Germany to attend University.
Yuelin Yao, International Student, 2018
As an international student, to learn be independent and self motivated. Marsden is a warm place for a child who leaves miles away from home.
Marsden Alumni remember their school years
Dame Bronwen Holdsworth
Dame Bronwen has fond memories of her time at Marsden. Read more
Keri Paterson reminisces
Today I attribute my days at Marsden to the many achievements I have had in life - the confidence to believe in myself, to know I can hold my own in any situation.  Read more
Nicola Saker writes
Now, decades on from leaving Marsden, there are three things that stand out for me. Read more
Parents comment on their daughter's Marsden education
Ann-Marie and Greg Haynie
From the first day we walked on the campus, we knew Samuel Marsden would be the perfect school for our three daughters.  Read more