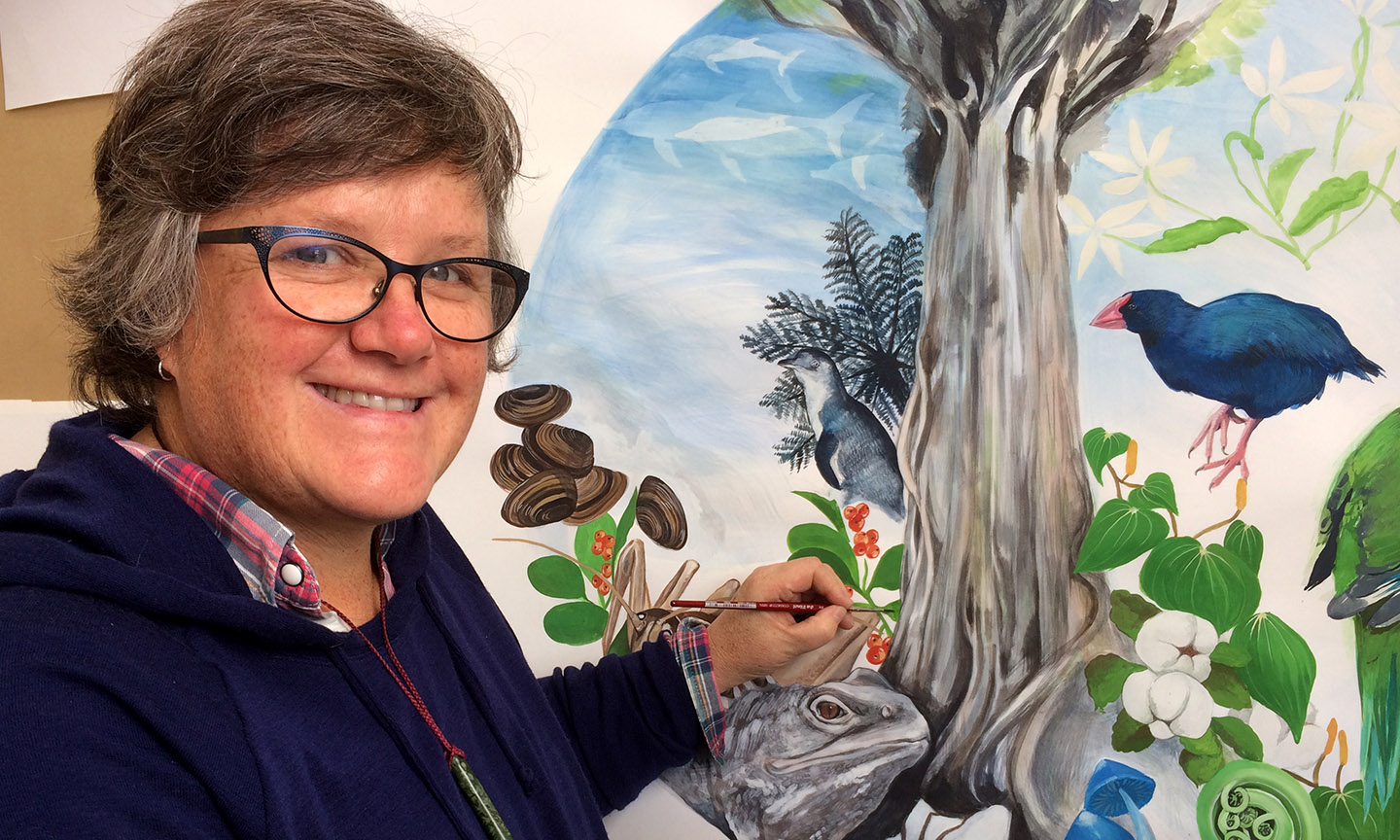 The Ultimate Creative Masterclass
Marsden's Artist in Residence Programme
Margaret Tolland – 'In the Round' Exhibition
Mix professional creative artist with impressionable students eager to learn and the results can be quite transformative – the ultimate outcome of Marsden's Artist in Residence programme. Established in 1999 the programme continues each year to build a legacy of strong associations with professional practicing artists and designers. This year's Marsden Artist in Residence is renowned Illustrator Margaret Tolland. She is spending 6 weeks at the school, creating her own body of conservationist works and inspiring students from Preschool to Year 13.
Margaret's Exhibition 'In the Round' will feature conservationist views from the perspective of eight 'conservation champions' associated with Karori's Zealandia. The large original works, along with prints, cards and student work, will be on display and for sale at the New Zealand Portrait Gallery, Customhouse Quay in Wellington, 28 June – 20 July.
I feel honoured to be part of the Marsden whānau. I feel really creative in the space there.
Margaret Tolland, 2019
Margaret is a full-time Artist and Illustrator with a background as a secondary school art teacher and Art Educator at Pataka Art + Museum. She has been a part of the children's picture book world for the past six years and has gained great momentum with a series of publications, including children's book titles 'Fantail's Quilt', 'Go, Green Gecko' and 'Watch out, Snail' amongst others. She is inspired by and creates beautifully detailed and rich illustrations that feature many of the unique endemic species of Aotearoa. Her illustrations led to being a finalist in the 2012 LIANZA Children's Book Awards and the 2014 New Zealand Post Picture Book Awards.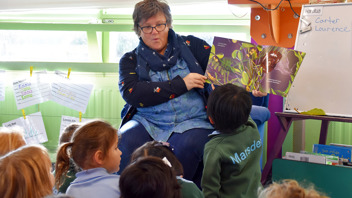 From the glossy and beautiful shell of New Zealand's native snail, the Powelliphanta, to the Wellington Green Gecko, or the common garden bee and even a cabbage, Margaret's illustrations delight with their rich detail. Working as an independent artist now, community involvement and people are still an important part of her passion for sharing art and she has maintained relationships with schools through art-based programmes. "I feel honoured to be part of the Marden whānau. I feel really creative in the space there. It's much bigger than my own studio at home and I enjoy sharing my passion with both Marsden's students on a daily basis, as well as invited students from Wellington Primary students in the upcoming workshop I will take on 20 June", said Margaret.
"Students at all year levels are enjoying working with Margaret during her tenure at Marsden and the process and experience is very rewarding for all involved. For some students it can transform the simple understanding of making images express ideas, for others it might change their view of themselves in the world. Margaret encourages students to ask the question "What are you doing on a daily basis to support conservation", and this aligns strongly with Marsden's Giving and Service ethos", said Marsden Head of Visual Design Kaz Bartsch.