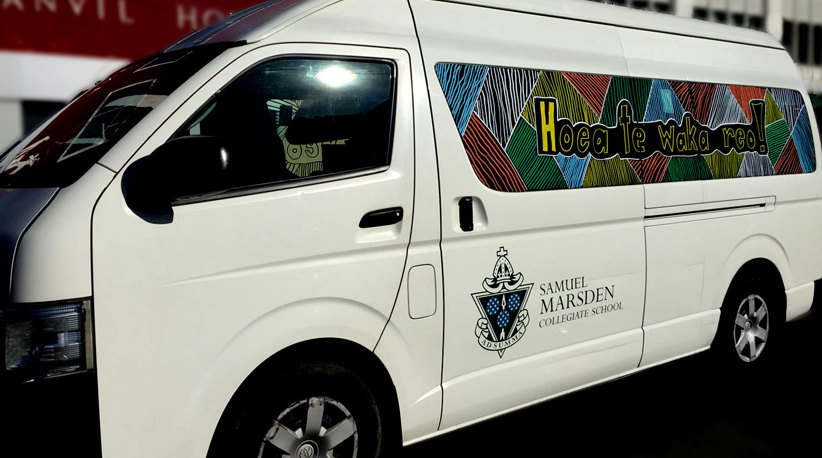 Getting to Marsden is easy
Students of all ages travel from all parts of the Greater Wellington region to attend Marsden in Karori. 
Bus Service
It's easy to get to Marsden School. Marsden and Metlink run bus services from the Wellington suburbs to Marsden and return. The buses arrive and depart from the Vera Street entrance. 
Younger children can be buddied with an older student travelling on the same bus. Please speak to your child's teacher to arrange this.
There is a duty teacher who monitors the children as they leave Marsden at the end of the day. The buses depart at 3:40pm.
For information about routes and bus timetables, please see here.

Shuttle Service – Eastbourne
Marsden also operates a school shuttle service from Eastbourne.


The Eastbourne route varies according to students' needs, with a pickup in Woburn and Petone then up to Karori. It is scheduled to arrive at school by 8:15am. The shuttle returns via Petone Station to Eastbourne. 
If you would like to use the Eastbourne shuttle please contact Jo Sherlock by email jo.sherlock@marsden.school.nz or calling 476 8792 Ext832.
Snapper Cards
Snapper Green
Primary students can get a green Snapper card from Snapper providers, which has a travel discount applied entitling them to child fare discounts on public transport.
Snapper enabled Student ID
All Year 7-13 students are issued with a Snapper enabled Student ID card when they start at Marsden. There is a cost of $20 for the card. Lost cards can be replaced for $20. If your daughter loses her ID card or is experiencing problems with her card please contact the school office on 476 8707.
It is a good idea to register your Snapper online by creating a Snapper account so you can view your transaction summary and type of concession. The card can be topped up at dairies and other Snapper providers.
Note: Users must remember to tag on entering the bus AND tag off when leaving the bus to avoid penalty charges.
For further information see https://www.snapper.co.nz/
Train
For students coming to Marsden from further afield there are regular train services on the Kapiti/ Hutt Valley/ Johnsonville/ Melling and Wairarapa Lines to the Wellington Railway Station. From there it's a short 6 mins walk to Lambton Quay North - Stop A, where they can catch either Bus #34 or #2 to Karori Road at Lancaster Street, and then it's an easy stroll to Marsden. 
At the end of the day students can catch the #671 direct from Marsden to the Railway station or the #14 Bus from Marsden which stops at the Railway station. Bus #2 departs regularly from Marsden Village and students can get off at Lambton Quay North - Stop D and walk to the Railway Station.