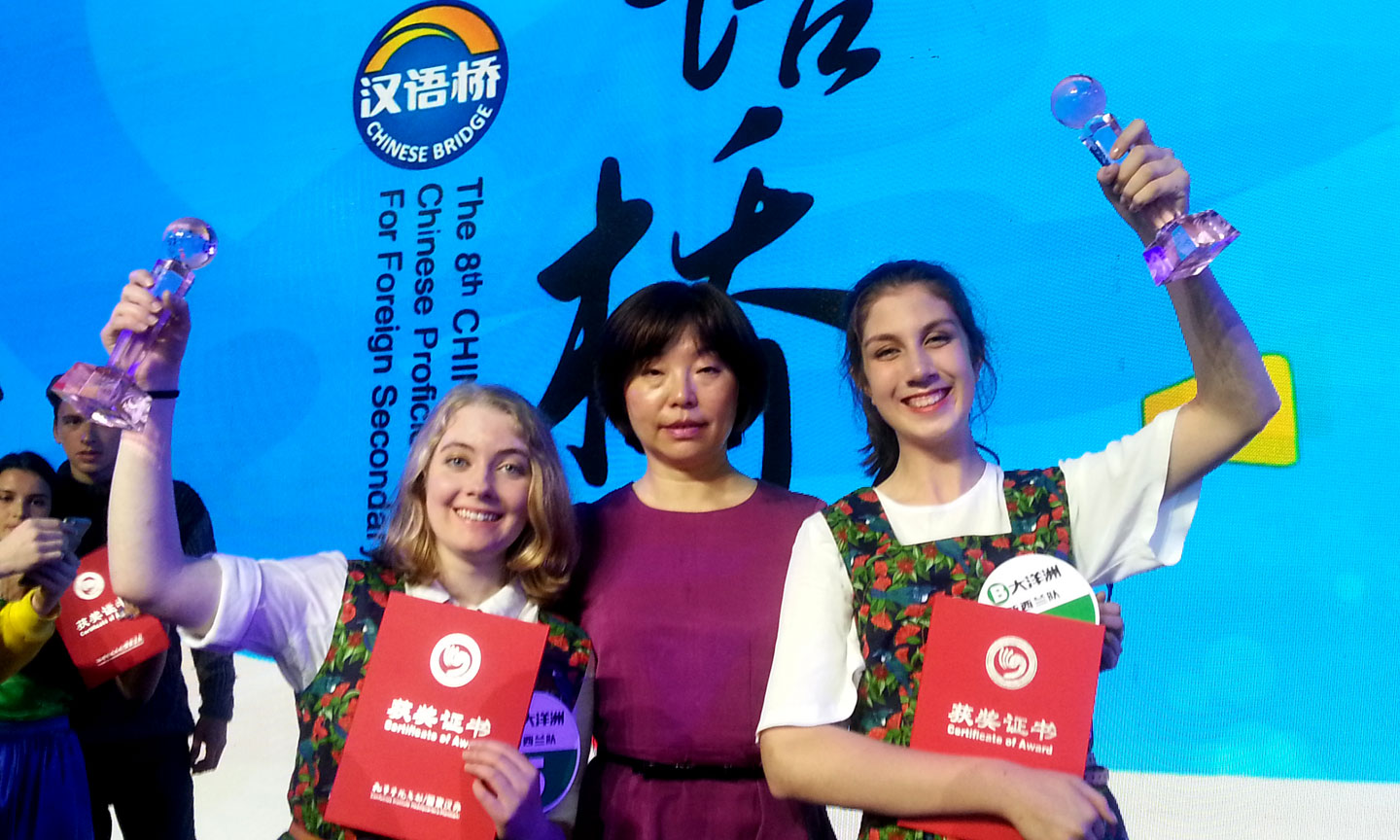 Oceania winners of international Chinese language competition
On 16 October Marsden students Lucy Berger and Annabelle Jessop flew to China to compete for New Zealand in the 2015 "Chinese Bridge" Chinese Proficiency Competition for Foreign Secondary School Students. They were accompanied by their teacher, Jing Ying Herrington, and observer, David Potts, from Rotorua Boys High.
The competition was run over 2 weeks in Yunnan Province and the theme was "Learn Chinese, Double Your World". There were 81 countries and a total of 404 contestants, team leaders and observers who went to China for this event.
Elimination rounds were held in Kunming where contestants were tested on Chinese language competence, cultural knowledge, speech and impromptu talk, as well as a Chinese talent and skill competition. Our New Zealand team was selected as one of 17 to progress through to the next round. After further competition, they made the top 10, and then the top 5!
Teams who reached a top 5 place won a one year scholarship for each team member. This scholarship is valid for selected Chinese universities and includes travel, accommodation, living expenses and medical insurance. In addition there was a similar six month scholarship won by the team member with the most online votes. This was won by Lucy Berger.
The final competition and closing ceremony was held on 31st October. Our girls won the top prize for Oceania (i.e. Australia, New Zealand and the Pacific Islands). This is the first time a New Zealand team has become the champion of Oceania.

Although the competition involved a lot of hard work, Lucy and Annabelle say they enjoyed their experience of the culture and really improved their command of the Chinese language. At the same time, they made a lot of friends with contestants from other countries and volunteers from Yunnan Normal University. An unforgettable experience for all and a first for New Zealand in this competition. Warmest congratulations girls!