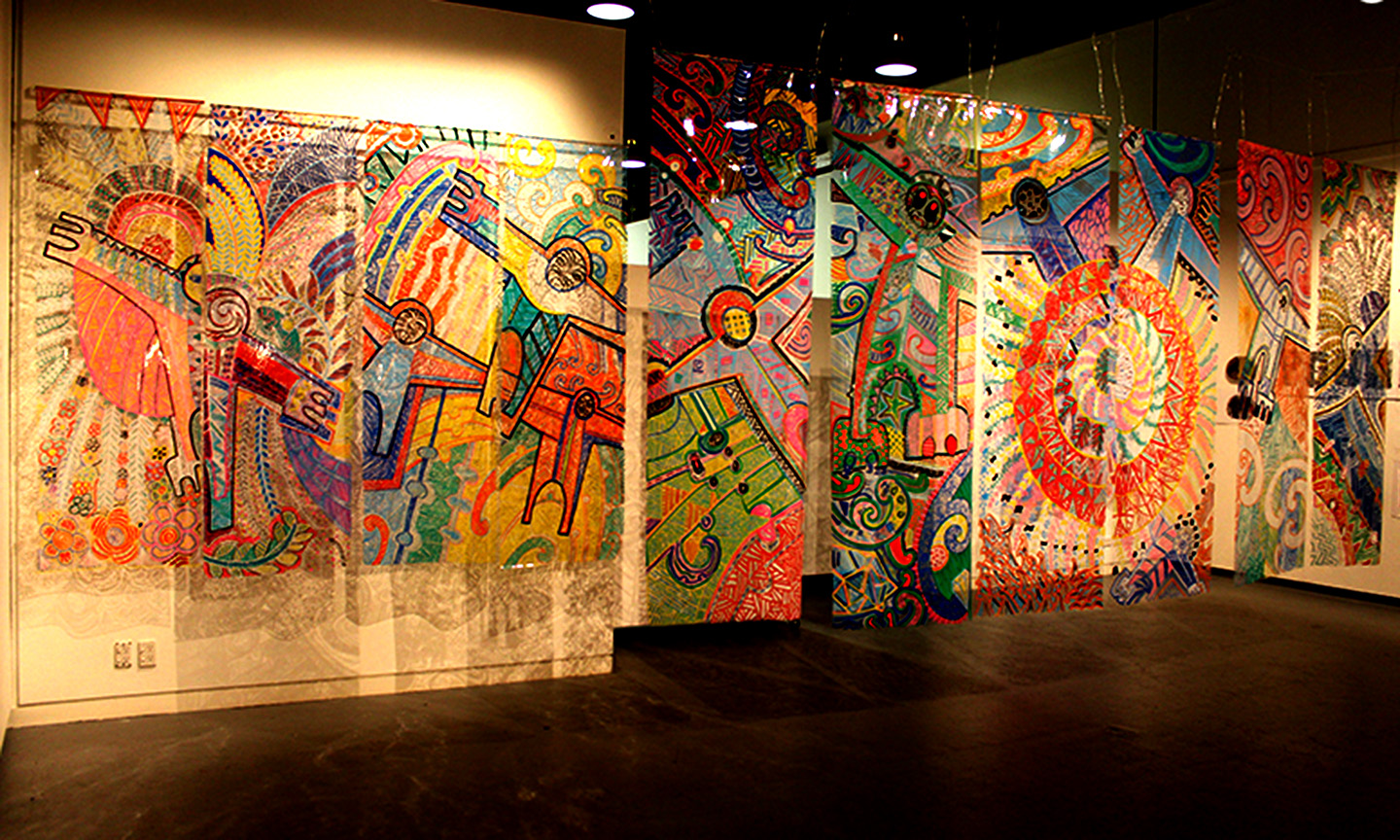 Marsden Artwork wins top international prize
Samuel Marsden Collegiate School's artwork 'Matariki – Māori New Year' has won the prestigious 2017 Saatchi Gallery (London) Art Prize for Schools. This is one of the most significant student art awards globally and the large collaborative work is on display at the Saatchi Gallery in London 4 – 13 July. The work was chosen from more than 24,000 entries from 66 countries.
The artwork was created by Year 6-8 students at Samuel Marsden Collegiate School's Artist in Residence Workshop and through specialist classes at Marsden led by renowned Artist Michel Tuffery. Invited students from Clyde Quay, Kilbirnie, Khandallah, St Mark's, Hataitai and Northland Schools also contributed to the work.
Consisting of paint-pen drawings on see through panels of vinyl the vibrant artwork celebrates Matariki, the Māori New Year, with Manu Aute or God kite forms giving tribute to past ancestors as they meet with them in the heavens.
The process of making the work collaboratively is a way of celebrating Matariki, the New Zealand indigenous New Year. "Working together enhanced the awareness of the 'many', gave us the chance to talk, laugh, interact and learn as we created together", said Tuffery. "The process is as important as the finished work. The students came away feeling empowered. They left with (artistic) skills, knowledge about Matariki, how to work together and an overall feeling of well-being."
Marsden Schools Head of Visual Arts Kaz Bartsch said "The Artist in Residence Programme at Marsden is an invigorating initiative. We bring in a working artist each year; creative and talented individuals who are experts in the arts, to extend and inspire our students. We introduce them to concepts beyond the curriculum and are pleased to share our programmes with the wider school community. This artwork is a true credit to all students involved, Michel Tuffery for his inspirational time at Marsden and John Denton, the previous Head of Visual Arts at Marsden, who extended and encouraged students and brought some exciting initiatives to the school in his 12 years with us. We are very excited to have won this prize! The win will enable us to enhance our Artist in Residence Programme and provide resources so our students can continue to explore art within and beyond the curriculum. In line with the special character of Marsden we will also continue to 'give' to our wider community, by sharing our programmes with other schools. "

Michel Tuffery imparted the following in the students he worked with "It's a wonderful exploration when you collaborate together, with another student or human being, it's the unknown, a voyage of discovery and trust in each other and trying to get that synergy right that is important."
The judging panel of the 2017 Saatchi Gallery Art Prize for Schools this year consisted of Alice Anderson, Artist; Alistair Hicks, Writer and Curator; Nigel Hurst, CEO of the Saatchi Gallery; Megan Piper, Gallerist and Founder of The Line; Dea Vanagan, Curator and Director, Hauser & Wirth Somerset. The judges were very complimentary of the Samuel Marsden Collegiate School work, announcing them as winners in both the Primary School category and as the overall winner, in a ceremony on 4 July 2017 at the Saatchi Gallery in London.