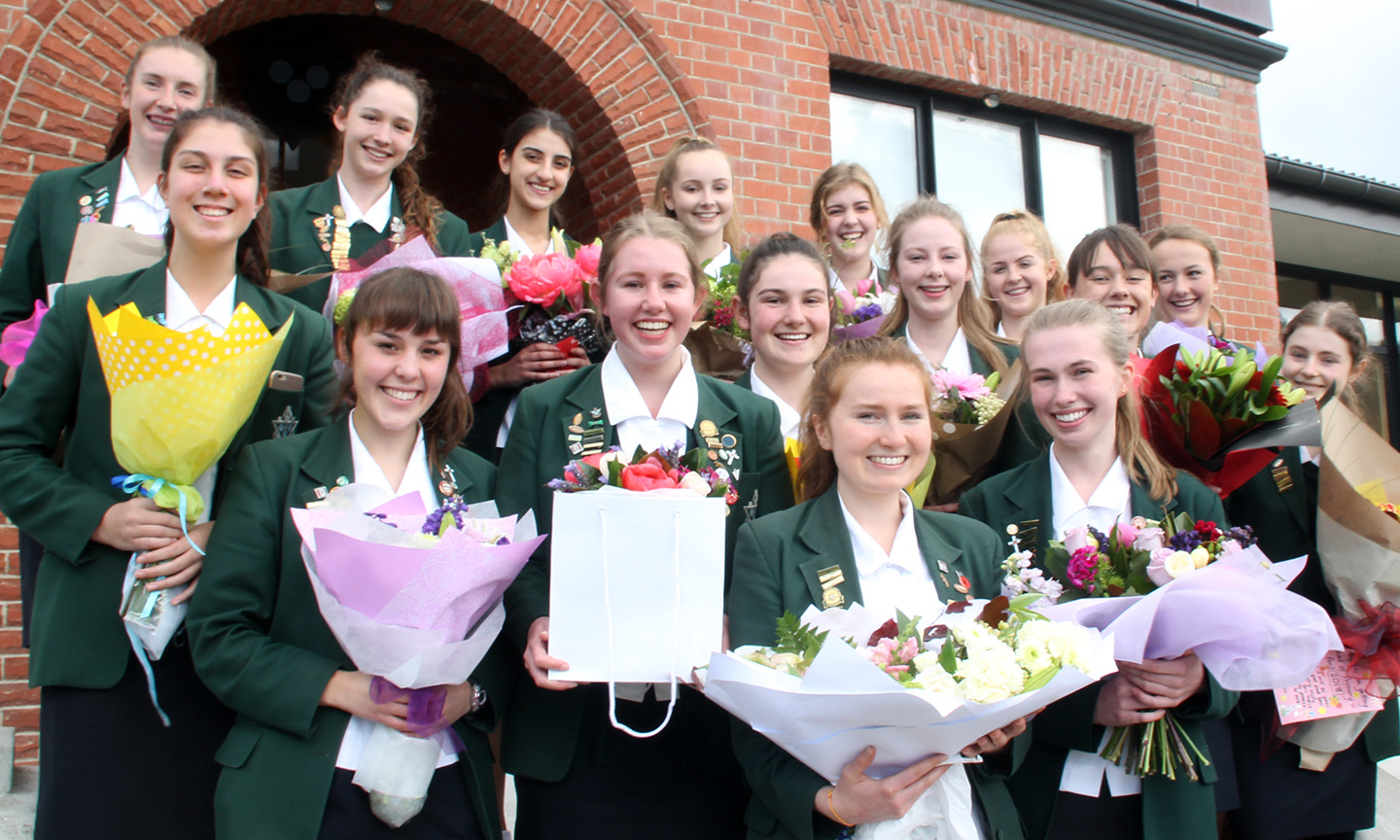 Congratulations Leaders of 2018
It is always a huge moment in Term 4 when we announce our student leaders and this year is no exception as we warmly congratulate Bella O'Meeghan, our 2018 Head Girl! Her deputy will be Kate Dobson and they are joined by a fabulous team of girls. Congratulations to you all. We are looking forward to working with you next year!
We would also like to take this opportunity to thank Harriett Morrow, Neakiry Kivi and their Committee for the wonderful job they have done leading the school this year. 
Head Girl
Bella O'Meeghan
Deputy Head Girl
Kate Dobson
HEAD GIRLS COMMITTEE 
Sports Captain
Imogen Skelton
Head of Service
Amy Cooper
Chair of School Council
Cici Davie
School Sacristan
Briana King
Head of Primary School
Thomasin McKenzie
Cultural  Captain
Anjali Gentejohann
Heads of Activities
Olivia Fox and Issie Warner
HOUSE CAPTAINS 
Baber
Emma Hassell

Hadfield-Beere

Lucy Brow

Jellicoe

Charlotte McManus

Johnson

Courtney King

Richmond

Annabelle Jessop

Swainson-Riddiford

Megan Fitness

 
 
Deputy Head of Service
Rebekah Hartley
Deputy Chair School Council
Maggie Dai
Deputy Head of Primary
Lauren Benseman
Assistant Sacristans
Alex Growcott and Claire Shue
Deputy Cultural Captain
Amira Bajema
Deputy Sports Captain
Ali Mitchell
DEPUTY HOUSE CAPTAINS
Baber
Rebecca Jordan
Georgina Peterson
Haddfield Beere
Lucy Stevens
Ellie Vinaccia
Jellicoe
Bella Standring
Alex Talbot
Johnson
Elle Cordalis
Myfanwy Wong
Richmond
Florence Barbalich
Abbie George
Swainson Riddiford
Simran Bechan
Amira Bajema
School Photographers
Ella Baigent-Brown and Myfanwy Wong
School Artists
Natalie Chin and Stephanie Chin
Head Librarian
Katie Mackenzie
Head of Music
Sarah Philp-Wright
Magazine Editors
Emily Dickinson/Fiona Jordan/Emma Wilson
Head of Technical Production
Mila Ballara
Head of Peer Tutoring
Bella Standring
Heads of Drama
Abbie George / Thomasin McKenzie
Head of Debating
Issie Warner
Heads of Social Media Group
Emily Dickinson / Anastasia Theodorou

Heads of Science Committee

Holly Milne/ Daniyah O'Grady /Lola Slaughter
Deputy Head Librarian
Emma Wilson
Head of Marsden Feminists
Annabelle Jessop
Deputy Heads of M Fems
Tegan Martin / Sofia Newton-Urlich
Heads of Mathematics Committee
Amy Cooper and Megan Lim
Heads of Languages Committee
Simran Bechan/Sarah Philp-Wright/Olivia Fox
ICT Team leader
Megan Lim
Head of International Students
Simran Bechan
Deputy Head of International Students
Yuelin Yao
Heads of Humanitarian Committee
Evie Ferguson / Katie Mackenzie
Heads of Environment Committee
Rebekah Hartley / Fiona Jordan
HEADS OF VARIOUS SPORTS
Head of Athletics and XCountry
Imogen Skelton
Head of Badminton
Leilani Fam
Head of Basketball
Courtney King
Head of Cricket
Charlotte McManus
Head of Dragon boating
tbc
Head of Equestrian
Ella Baigent-Brown
Head of Football
Ali Mitchell
Head of Futsal
Grace Henderson
Head of Floorball
Rachel Bertschinger
Head of Hockey
Georgina Peterson
Head of Junior Hockey
Katie Mackenzie
Head of Netball
Rebekah Hartley
Head of Junior Netball
Courtney King
Head of Lacrosse
Annabelle Jessop
Head of Lawn Bowls
Rebecca Jordan
Head of Rowing
Issie Warner
Head of Skiing
Lauren Benseman
Head of Tennis
Maggie Dai
Head of Touch Rugby
Grace Henderson
Head of Volleyball
Lily Fu
Head of Water Sports
Molly Dewar
HEADS OF MUSIC GROUPS
Leader of Altissime
Briana King
Leaders of Ad Summa Chorale
Amira Bajema / Megan Fitness
School Pianist
Lily Fu
Leader of Symphony
Sarah Philp-Wright
Leaders of Handbells
Kate Dobson / Hannah Summers
Leader of Piano Ensemble
Anjali Gentejohann
Leader of Flute Group
Annabelle Jessop
Leaders of Guitar Group
Amy Cooper / Lucy Brow
Leader of Barbershop
Myfanwy Wong and Emma Wilson
MONITORS
 

Year 7 – 9 Form Monitors

Natalie Chin Emily Dickinson Alex Growcott Rebekah Hartley Grace Henderson Rebecca Jordan Ali Mitchell Daniyah O'Grady Sarah Philp-Wright Claire Shue Lucy Stevens Ellie Vinaccia
Primary School Form Monitors
Lauren Benseman Stephanie Chin Elle Cordalis Evie Ferguson Holly Milne
Lola Slaughter Anastasia Theodorou