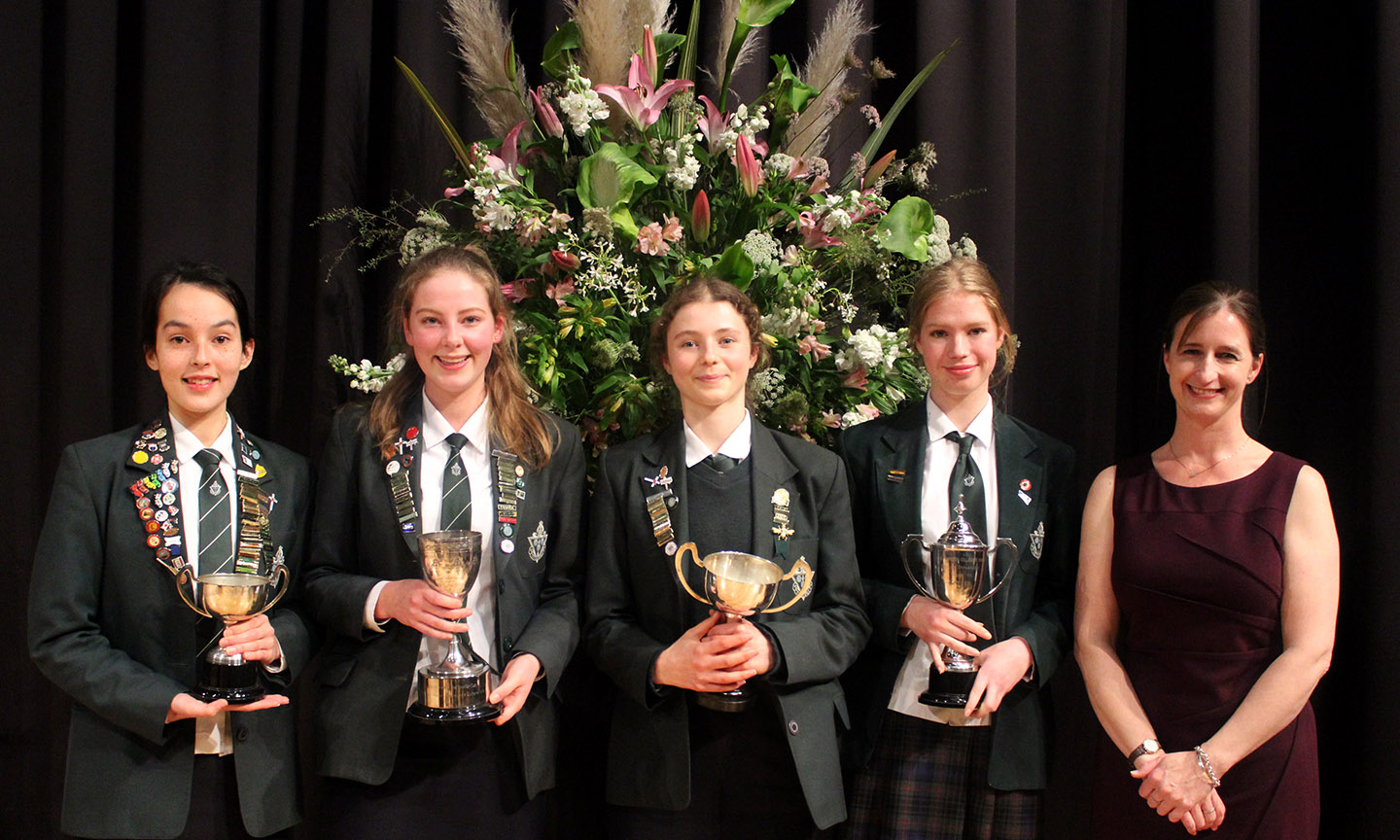 Cultural Excellence Acknowledged
Marsden's 2018 Cultural Awards Evening was held in the Auditorium in the last week of Term 3 to recognise the talents and achievements of students across the cultural aspects of the school. While acknowledging cultural excellence, commitment and service we also thanked our volunteers for assisting with culture at Marsden. 
Principal Narelle Umbers, Old Girls' President Mandy Britnell and Jennifer Evans were honoured guests and presented Cups, Colours and Certificates of High Achievement and Service. This year we added the Principal's Medal to our highest awards. 
Congratulations to the following Cultural Award recipients, you have shown us what talented students you are and we applaud you all.
Award
Recipient
Principal's Award
Thomasin McKenzie
Old Girls' Association Cup for Cultural Involvement
Sarah Philp-Wright
Thurlby Cup
Megan Fitness 
Sophie Evans Cup for Performing Arts
Thomasin McKenzie
Orr-McFaull Debating Cup
Isabella Warner
Year 11 Speech Cup
Jill Allen
Music - Colours
Jemma Chester
Elle Gibson
Milly Isac
Annabelle Jessop
Jemimah Middelkoop
Sarah Philp Wright
Music - Junior Colours
Matilda Goldie
Anabel Jamieson
Tiffany Kenyon
Stella Muellner
Amy Nathanson
Music - Service
Amira Bajema
Megan Lim
Linda Zhang
Drama - Colours
Thomasin McKenzie 
Drama - Junior Colours
Anabel Jamieson
Drama - High Achievement
Annabelle Jessop
Briana King
Sofia Newton Urlich
Anna Reed
Alaina Wilks
Drama - Junior High Achievement
Lucca Bridgman
Josie Morrison
Ella Robertson 
Drama - Colours in Technical Production
Mila Ballara
Drama - High Achievement Technical Production
Nia Butler
Jemimah Middelkoop
Drama - Service to Technical Production
Sophie Brown
Charlotte Cinque
Dance - Colours
Michelle Lee
Dance - Junior Colours
Nia Butler
Anabel Jamieson
Kezia Shepherd
Dance - Service
Lucy Dobson
Emma Taylor
Kapa Haka - Junior Colours
Araraina Takuira-Mita
Kapa Haka - High Achievement
Jemimah Middelkoop
Tuia Tapuke
Kapa Haka - Junior High Achievement
Tamari Peseta
Debating - Service
Olivia Fox
Courtney King
Service to Cultural Activities - Colours
Amy Cooper
Megan Fitness
Lily Fu
Anjali Gentejohann
Carman Kong
Charlotte McManus
Service to Cultural Activities
Lucy Brow
Abbie George
 Bravo!