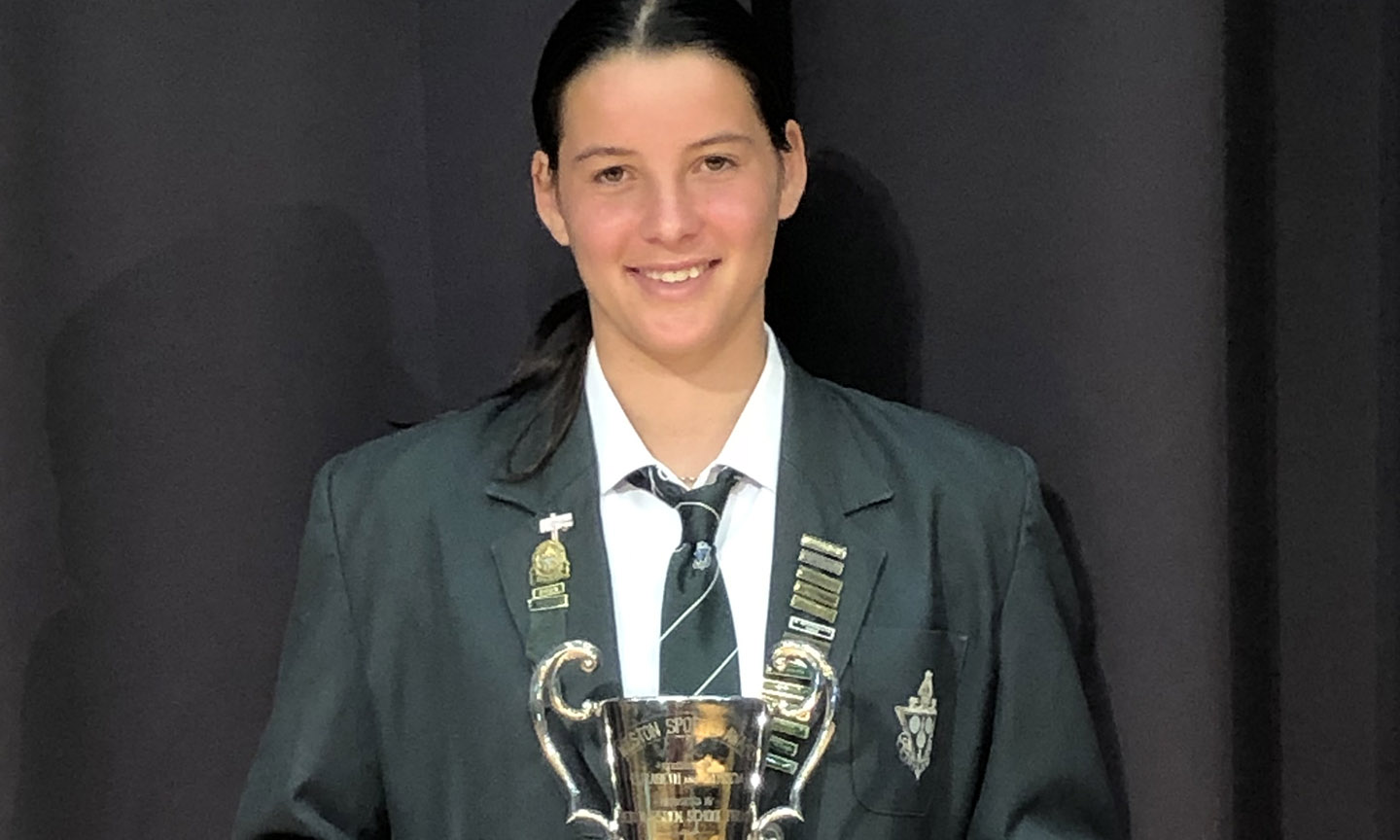 Sports & Cultural Awards Online Evening
On Thursday night we celebrated the achievements of Marsden students in the sporting and cultural arenas at our Awards Evening. Due to COVID-19 restrictions this was an online event, hosted by Cultural Coordinator Sarah Wilson and Director of Sport Eliott Brookes, along with our student leaders: Cultural Captain Anabel Jamieson, Sports Captain Tommi Davie, and deputies Michelle Gu and Jade Otway. We extend a special thank you to these students who delivered wonderful speeches about their involvement with sports and culture during their time at Marsden.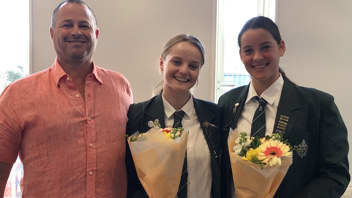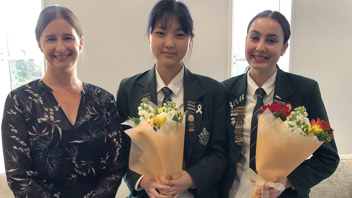 This event covered successes across the 2020 and 2021 period, as last year's awards evening (also impacted by COVID-19) was solely for Year 13 students.
Our guest speaker was Emma Robinson, a Wellington-born swimmer who has competed at both the Commonwealth and Olympic Games. She talked about the grit required to reach her goals and managing the pressure of high performance sport. Emma stressed the importance of having good support and giving your dreams everything you have.
Congratulations to all our award winners and thank you to all of the supporters of our sports and cultural programme.
See list of prize winners, in order of announcement, below:
CULTURAL AWARDS

Service to Cultural Activities - Michelle Gu
Service to Cultural Activities - Isabel Possenniskie
Service to Kapa Haka - Raiha Kawiti
Service to Kapa Haka - Te Ataraukura Tapuke

Service to Dance - Chloe Bailey
Service to Dance - Freya Harper-Wallace
Service to Dance - Anabel Jamieson
Service to Dance - Anita Lambrechtsen
Service to Dance - Eloise Lambrechtsen
Service to Dance - Lopa Mistry


Service to Dance - Kezia Shepherd



Service to Technical Drama - Amy Harvey-Green
Service to Technical Drama - Sophie Kennedy
Service to Technical Drama - Georgina Nicholls

Service to Music - Keira Banks
Service to Music - Paige Gibson
Service to Music - Amy Nathanson
Awards for High Achievement

Junior High Achievement in Debating - Valerie Howe

High Achievement in Debating - Arushi Bhatnagar-Stewart
High Achievement in Debating -Lauren Britton
High Achievement in Debating - Freya Harper-Wallace
High Achievement in Debating - Caroline Jones
High Achievement in Debating -Eloise Lambrechtsen
High Achievement in Debating - Chloe Sim 
High Achievement in Debating - Cassie Truscott 
High Achievement in Debating - Keisha Wong

High Achievement in Drama - Louisa Boyer
High Achievement in Drama - Josie Morrison
High Achievement in Drama - Yestin Ojala
High Achievement in Drama - Araraina Takuira-Mita
High Achievement in Dance - Anabel Jamieson

Year 13 Commitment to an auditioned ensemble for at least 3 years
Keira Banks
Paige Gibson
Anabel Jamieson
Josie Morrison
Amy Nathanson
Isabel Possenniskie
Isabella Wickremesekera
 
Service Colours
 
For Dance - Nia Butler
For Kapa Haka - Araraina Takuira-Mita
For Cultural Activities - Keisha Wong
Junior Colours 
 

Dance - Carina Gunchenko
Dance - Rose Peddie-Burch

Technical Drama - Unnamalai Alagusundaram

Drama - Davida McKenzie

Music - Georgia Burley
Music - Carina Gunchenko
Music - Valerie Howe
Music - Lilja Leppanen
Music - Milliann Limb
Music - Rose Peddie-Burch
Music - Emily Yu
Music - Karen Yui

Senior Colours
 
Colours in Dance - Nia Butler
Colours in Dance - Yestin Ojala
Colours in Dance - Kezia Shepherd

Colours in Drama - Anabel Jamieson
Colours in Drama - Amy Nathanson

Colours in Music - Joyce Chan
Colours in Music - Anabel Jamieson
Colours in Music - Tiffany Kennyon
Colours in Music - Freya McKeich
Colours in Music - Amy Nathanson
Colours in Music - Isabella Wickremesekera
Colours in Music for Finalie
Isabel Possenniskie
Keira Banks
Madison Farrelly
Paige Gibson
Dandelion Huang
Anabel Jamieson
Josie Morrison
Amy Nathanson
Isabella Soane
Isabella Wickremesekera
Eleanor Berry
Anoushka Ganesan
Anita Lambrechtsen
Francesca Lynch
Shenaya Rajasekera
Ella Robertson


Arushi Bhatnagar-Stewart

Louisa Boyer




Jemima Jackson




Eloise Lambrechtsen




Freya McKeich




Liliana O'Connell




Eva Stein




Meredith Banks




Georgia Burley




Cece Chen




Arlo Keating




Olivia Manthel Brown




Grace Masters




Lexi More




Helen Yang

Honours Bars 
Anabel Jamieson
Freya McKeich
 
Cultural Cups 
The Year 11 Speech Cup - Joyce Chan

The Orr-McFaull Cup for Excellence in Debating - Cassie Truscott

The Sophie Evans Cup for Performing Arts - Anabel Jamieson

The Harcourt McKenzie Cup for the Pursuit of a Career in the Stage or Screen Arts - Amy Nathanson

The Thurlby Cup - Josie Morrison

The Old Girls' Cup for Cultural Involvement - Araraina Takuira-Mita

Volunteer of the Year - Nepia Takuira-Mita

Coach of the Year - Maaike Christie Beekman
SPORTS AWARDS

Commitment to a Sports Team for at least 3 Years
Tommi Davie - Netball and Water Polo
Madison Farrelly - Rowing
Emma Groom - Basketball and Volleyball
Grace Hagen - Water Polo
Freya Harper-Wallace - Volleyball
Emma Holden - Floorball
Hannah Hull - Hockey and Water Polo
Victoria Jackson - Cricket
Laura Jones - Swimming
Grace Kerr - Hockey
Paige Martin - Football
Charlotte Matthews - Basketball
Ana Nota - Water Polo
Jade Otway - Tennis
Izzy Soane - Skiing
Araraina Takuira-Mita - Handball and Netball
Petra Tindle - Basketball and Water Polo
Service Colours for Sport

 
Tommi Davie - Netball
Grace Kerr - Hockey
Charlotte Matthews - Basketball
Petra Tindle - Water Polo
Araraina Takuira-Mita - Basketball
Junior Colours
Hockey - Emily Allen
Diving - Kade Bacon-Bootham
Athletics and Futsal - Phoebe Gray
Swimming - Charlotte Hall
Futsal - Anika Humphries
Water Polo - Macy Mahoney-Studd
Swimming - Grace Masters
Hockey - Charlotte Merwood
Futsal - Layla Parsons
Orienteering - Lexi More
Surf-lifesaving - Yasmin Rodda
Athletics - Analin Rudd
Cricket - Carys Seddon
Athletics and Cross Country - Kate Yu
Sports Colours
Araraina Takuira-Mita - Athletics and Netball
Harriet Abbott - Netball
Ruby Barton - 

Athletics and Cross Country


Amelia Cave - Tennis
Grace Cinque - Underwater Hockey
Tilly Dassanayake - Swimming
Emma Egley - Underwater Hockey
Alisa Elshout - Tennis
Sofia George - Football and Futsal
Sarah Guiney - Netball
Amy Harvey-Green - Underwater Hockey
Olivia Jones - Netball
Laura Jones - Swimming
Tiffany Kenyon - Underwater Hockey
Becky Ngan - Cheerleading
Liliana O'Connell - Underwater Hockey
Esme Olney-Boyd - Cricket and Futsal
Jade Otway - Tennis
Molly Player - Swimming
Rachel Price - Netball
Ella Robertson - Tennis
Amy Slessor - Futsal
Mila Smith - Underwater Hockey
Isabella Soane - Skiing
Jade Stapleton - Underwater Hockey
Wynter Tickle - Swimming and Fencing
Petra Tinda - Water Polo
Cassie Truscott - Shooting
Eva Whitfield - Netball
Emily Wong - Netball


Honours Bars 
Ruby Barton - Athletics and Cross Country
Becky Ngan - Cheerleading
Jade Otway - Tennis
Molly Player - Swimming
Cassie Truscott - Shooting
New Zealand Bars
Jade Otway - Tennis 
Molly Player - Swimming
Cassie Truscott - Shooting
Special Awards
Esports - Ella Liu


Carr Smith Cup for Rowing - Madison Farrelly


Fran Hesp Coxwain's Trophy for Rowing - Isabella Sharp


Marsden Rower of the Season Rowing MVP - Amy Harvey-Green


Emma Humphries CupFootball MVP - Paige Gibson


Jackson Cup - Grace Kerry


Proctor Cup Hockey MVP - Tilly Dassanayake


Netball Club Cup - Tommi Davie


Senior A Netball MVP - Eva Whitfield


Miller Cup for Water Polo - Petra Tindle


Catherine Graham Cup Handball MVP - Ruby O-Connor


Tamara Warmerdam Cup Volleyball MVP - Emma Groom


Russell Simmonds Cup Skiing MVP - Isabella Soane


Parents' Association Cup for Contribution to Junior Sport - Tommi Davie


All Rounder of the Year - Araraina Takuira Mita


Team of the Year - Senior A Netball


Weston Cup for Sportswoman of the Year Runners Up - Molly Player and Cassie Truscott


Weston Cup Sportswoman of the Year - Jade Otway


Volunteer of the Year Runner Up - Kate Fitzgerald


Volunteer of the Year - Nepia Takuira-Mita


Coach of the Year - Efi Fa'atu