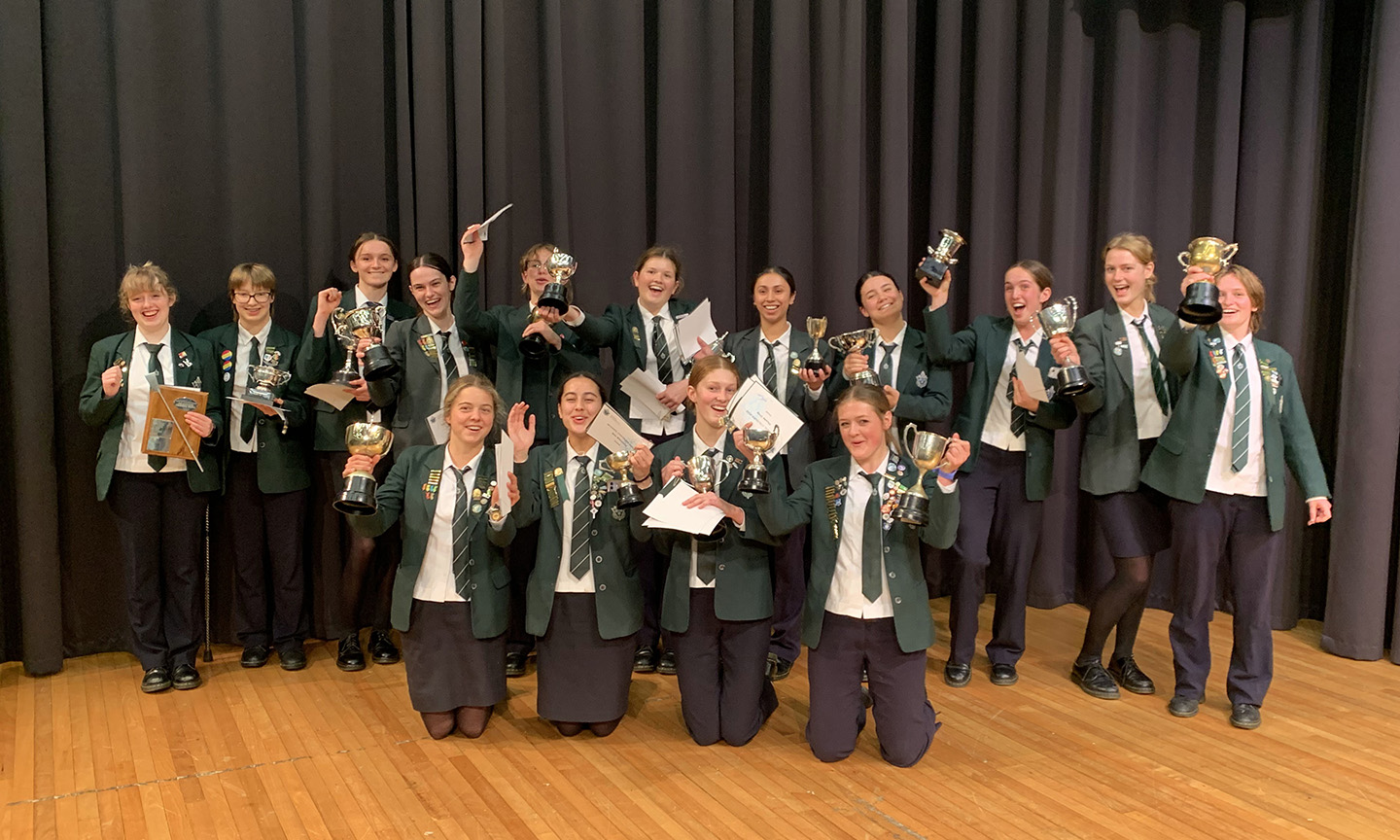 2022 Marsden Sports Awards
We celebrated the best of Marsden's sporting moments at our 2022 Sports Awards on Thursday evening, honouring the achievements of an amazing group of athletes and supporters.
Our champion Underwater Hockey Team scooped the pool, winning Team of the Year, Coach of the Year and Volunteer of the Year. NZ Champion swimmer Molly Player, won Sportsperson of the Year, for her incredible work ethic, talent, and dogged determination that have helped her reap the rewards.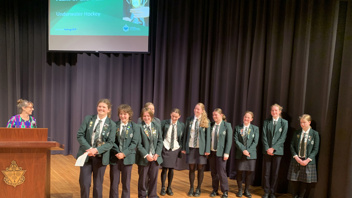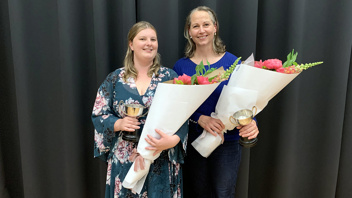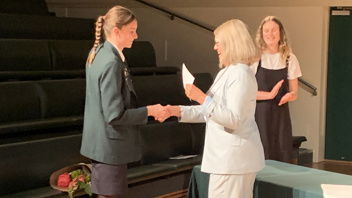 Guest speaker, sports journalist Kate Wells, shared her high-performance sports journey, culminating in a career behind the microphone as opposed to one on centre stage. We heard about the trials and tribulations of chasing one's dreams and the resilience required when not everything goes to plan. The highs and lows of sport prepare a young person for the inevitable bumps in life's journey.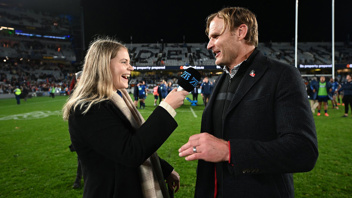 Congratulations to all our award recipients, see list below (in presentation order):
Sport
Recipient 
Service to Sport Colours
Hockey
Tilly Dassanayake
Kate Wallace 
Underwater Hockey
Amy Harvey-Green
Grace Cinque
Netball
Harriet Abbott
Laura Hausmann
Annabelle Hillie
Tennis
Ella Robertson
Basketball/Netball 
Lauren Healy
Charlotte Jones
Junior Colours 
Rugby Union and Rugby League
Ilo Lui-Fa'i 
Swimming
Alyssa Bai
Asha Todd
Cricket/Indoor Cricket
Carys Seddon 
Athletics
Ava Bowmaker
Charlotte Masters
Hockey
Yasmin Rodda
Cheerleading
Julia Choquette
Cross Country 
Emma Lowden
Alyssa Bai
Underwater Hockey
Milliann Lim
Long Term Commitment to Sport
Underwater Hockey

Emma Egley
Amy Harvey-Green
Tiffany Kenyon
Jade Stapleton
Charlotte Stewart
Grace Cinque
Eleanor Berry

Rowing
Amy Harvey-Green
Swimming
Molly Player
Tilly Dassanayake
Lacrosse

Shenaya Rajasekera
Yuki Man
Anoushka Ganesan
Becky Ngan

Volleyball
Francesca Lynch
Lauren Healy
Hockey

Kate Wallace
Tilly Dassanayake
Jayda Hudig
Lulu McIver
Pippa Fletcher

Netball
Laura Hausmann
Harriet Abbott
Eva Whitfield
Tennis
Ella Robertson
Touch Rugby
Lauren Healy
Lulu McIver
Jayda Hudig
Football
Lili Solomon
School Colours
Athletics
Analin Rudd
Kate Yu
Diving
Kade Bacon-Bootham
Cricket
Esme Olney-Boyd
Fencing 
Wynter Tickle
Football
Sofia Gray
Phoebe Gray
Hockey 
Emily Allen
Charlotte Merwood
Indoor Cricket
Esme Olney-Boyd
Futsal
Phoebe Gray
Lacrosse
Anoushka Ganesan
Yuki Man
Netball 
Sarah Guiney
Macy Mahoney-Studd
Eva Whitefield
Emily Wong
Rowing
Amy Harvey-Green
Sailing
Grace Cinque
Shooting
Kate Yu
Analin Rudd
Surf Life Saving
Grace Masters
Swimming
Grace Masters
Molly Player
Volleyball
Francesca Lynch
Emily Wong
Waterpolo
Macy Mahoney-Studd


Siobhan Costello




Lily Johnston



Underwater Hockey
Grace Cinque
Emma Egley
Eleanor Berry
Amy Harvey-Green
Tiffany Kenyon
Liliana O'Connell
Catherine Rombel
Mila Smith
Jade Stapleton
Charlotte Stewart
Emily Swarbrick
New Zealand Representatives  
Swimming
Molly Player
Sailing
Grace Cinque
Netball
Sarah Guiney
Fencing
Wynter Tickle
Samoan Representative
Rugby League
Ilo Lui-Fa'i
New Zealand Honours
 

National Champions Underwater Hockey

Emma Egley, Kate Harvey-Green, Tiffany Kenyon, Liliana O-Connell, Catherine Rombel, Mila Smith, Jade Stapleton, Charlotte Stewart, Emily Swarbrick, Grace Cinque, Eleanor Berry
National Champions
 
Swimming
Molly Player 200m Backstroke
Sailing
Grace Cinque Mixed crew 420 Sailing
Marsden Sports Cups
 
Fran Hesp Coxswain's Trophy
Isabella Sharp 
Carr-Smith Cup for Rowing 
Harriet Mills 
Marsden Rower of the Season
Amy Harvey-Green
Netball Club Cup for Contribution to School Netball
Harriet Abbott
Senior A Netball MVP 
Eva Whitfield
Jackson Cup for Contribution to Hockey
Raiha Kawiti
Proctor Cup for MVP Hockey
Tilly Dassanayake
Emma Humphries Cup for MVP Football
Sofia George
Burdon-Keating Cup for Underwater Hockey
Mila Smith
Sarah Molisa Cup for Basketball
Lauren Healy
eSports Cup
Kade Bacon-Bootham
Miller Cup for Waterpolo
Macy Mahoney-Studd
Warmerdam Cup for Volleyball
Francesca Lynch
Parent Association Cup for Contribution to Junior Sport
Phoebe Gray 
All Rounder of the Year Finalists 
Amy Harvey-Green for Underwater Hockey and Rowing
Phoebe Gray for Athletics, Volleyball, Futsal, Netball, Cross Country
Emily Wong for Netball and Volleyball
Macy Mahoney-Studd for Netball and Waterpolo
Sarah Guiney for Netball, and Volleyball
All Rounder of the Year 
Phoebe Gray 
Volunteer of the Year Finalists 
Natasha Kenyon - Underwater Hockey
Scott George - Football
Miriam Dassanayake - Hockey
Warren Player – Swimming
Greg Lynch - Basketball
Volunteer of the Year
Natasha Kenyon 
Coach of the Year Finalists
Kaley Ward – 1st XI Football
Bjorn Dix – 1st XI Hockey
Abigail Burdon – Underwater Hockey 
Coach of the Year
Abigail Burdon
Team of the Year Finalists
Senior A Underwater Hockey
1st XI Hockey
1st XI Football 
Team of the Year
Underwater Hockey 
Western Cup for Sportsperson
of the Year - Finalists
Molly Player - Swimming
Wynter Tickle - Fencing
Grace Cinque - Sailing
Sarah Guiney - Netball
 
 
Western Cup for Sportsperson
of the Year
Molly Player
If you put your head down, work hard and stay positive, opportunities will come.
Kate Wells, sports Journalist
Congratulations to all our award recipients, and to all who gave sport a go this year. Thank you also to our incredible stable of hardworking and loyal volunteers for your mahi, as sport simply could not happen without your passion and commitment.