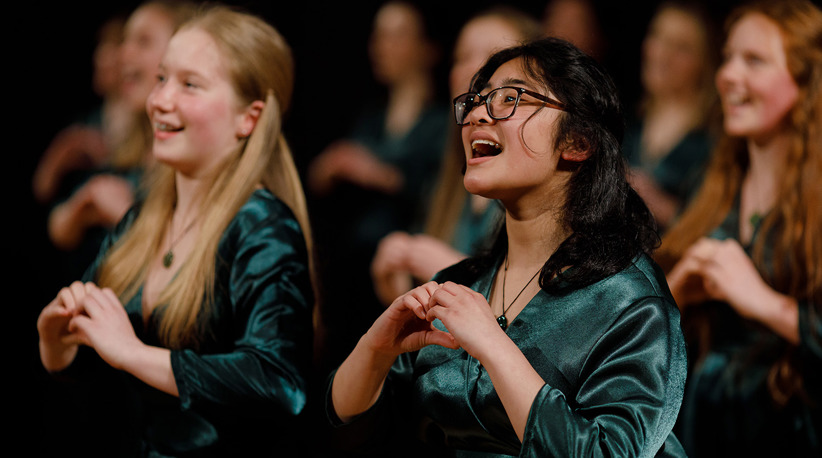 Excellence in Music Education
As part of our holistic education that empowers students to find their passions, contributes to their wellbeing and inspires them for the future, Marsden has a firm commitment to and long-standing record of excellence in music education. From Primary school right through to Y13, students at Marsden have the opportunity to participate in an inclusive and encouraging environment led by talented specialist teachers. 
Primary
All Primary students have weekly music lessons and can additionally take part in Junior Choir, Chapel Choir, school orchestra and a music club. Within their weekly lessons students explore and acquire skills and knowledge in the elements of music in a fun and stimulating way. At each year level there is also an instrumental focus including the ocarina for the juniors, the strings initiative to learn violin or cello in Years 3 and 4, recorder in Year 5 and ukulele in Year 6. The Music Club welcomes all to play and learn about percussion (Term 1); ukulele (Term 2) and playing as a recorder ensemble (Term 3 and 4).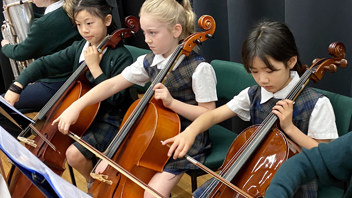 At the end of every term we hold a Primary School service at St Mary's where the Chapel Choir performs, and throughout the year we host concerts and Special Friends days where the different choirs, ensembles and solo musicians are able to perform in a supportive and welcoming environment. Additionally Primary students put on a production every other year in Term 3, rotating this with the wonderful Wellington Artsplash festival.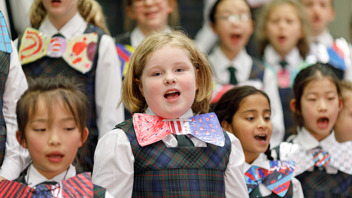 Highly trained teachers
Marsden also offers highly trained itinerant teachers in voice, piano, violin, clarinet, flute, saxophone, viola, basson, drums, ukulele, bassoon, tuba, oboe, cello and double bass for interested students of all ages.
Even more for Upper School
The Upper School offers even more groups for musically inclined students to avail themselves of including our all-comers choir Ad Summa, our Year 7-9 choir The Larks, the auditioned choir Altissime, Kapa Haka, school orchestra, handbells and many more ensembles. There is also an Upper School production every two years.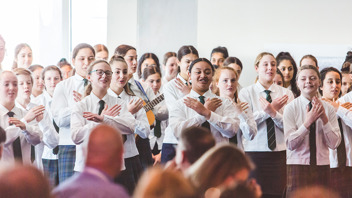 In their intermediate years all Year 7 and 8 students take two class lessons of music a week and Year 9s have one lesson per week. Year 7 focuses primarily on the Year 7 Band - everyone learns a new instrument, not something they already know. More experienced musicians help those newer to music and everyone has a chance to give it a go. "The experience of learning a new instrument gives students something that can take them places if they choose" says Marsden's Head of Music Marian Campbell. "It allows them to be a part of creating something new and being a part of something big." The Year 7's also learn a new music coding program. The OSMO Jam program allows students to compose through coding musical patterns into the program to generate a multi-layered piece of music.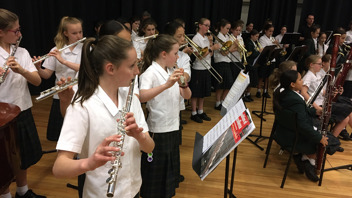 In Year 8 the students study music styles from around the world and also participate in the Jam programme where they learn through pop music to read and understand chords on the keyboard and guitar. Year 9's focus is on Rock n Roll, Jazz and the Blues. For those girls wanting to continue their music study, Marsden has a strong NCEA programme in Years 10-13.
Opportunities to perform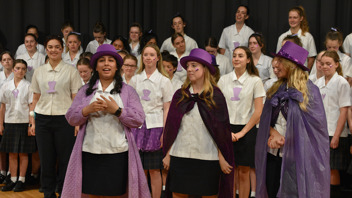 All Marsden students bring their voices and musical talents to participate in the life of the school as music is such an important part of our school culture. Throughout the year the girls sing and perform at Old Girls' Day, House Music, Carol Service and Prizegiving. We also have Showcase concerts, the Swainson Memorial Music Competition and itinerant music recitals.