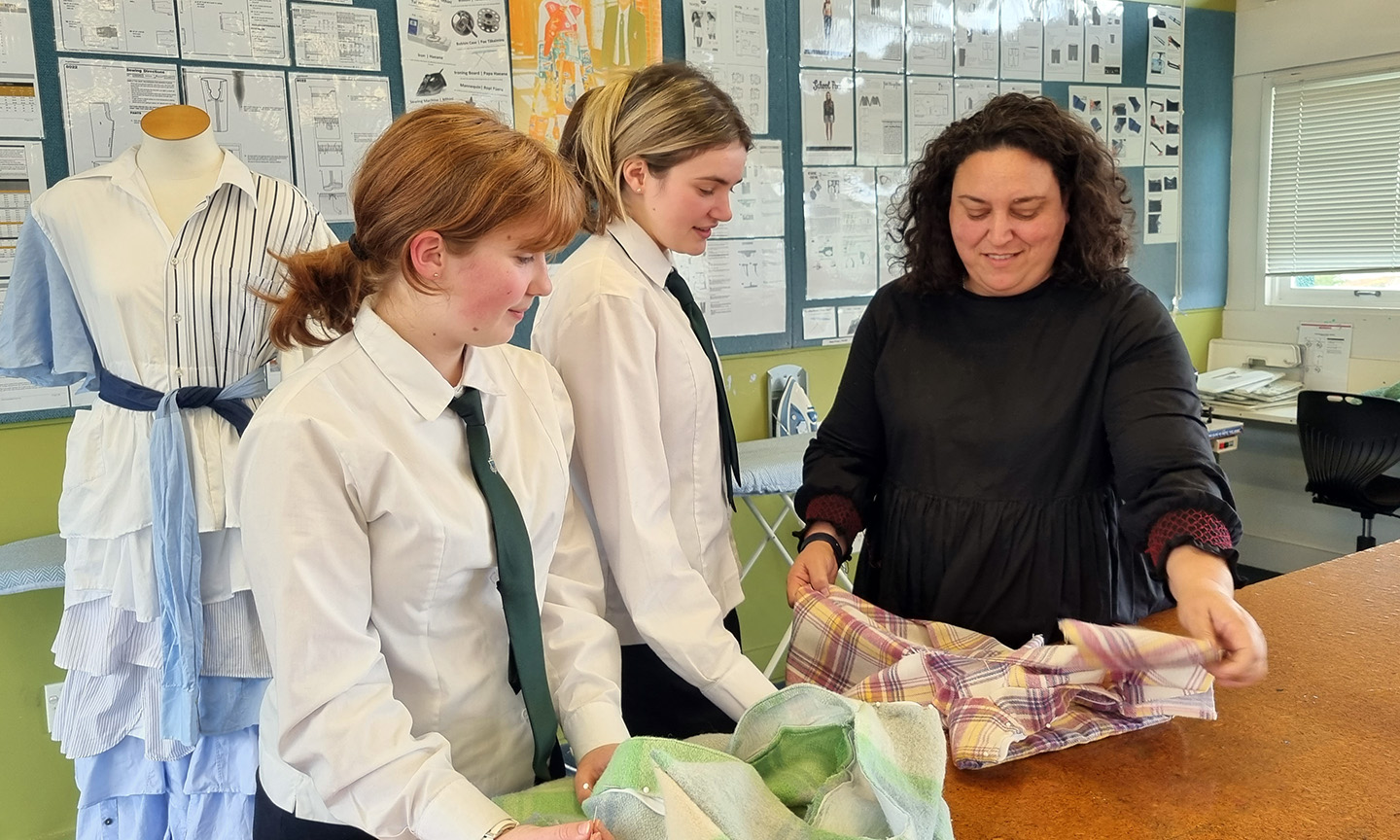 Technology and a Love of Learning
It is no surprise that our Head of Technology, Sarah Wirth has a "Love of Learning" as one of her key character strengths. In addition to a Bachelor of Arts in Arts and Design from the University of New South Wales College of Fine Arts, along with a teaching degree, Sarah recently (2022) completed her Masters of Education at Victoria University of Wellington. "I've come away with a lot of ideas that I have implemented in my classroom and a better understanding of the New Zealand Curriculum. I enjoyed the focus on collaborative learning and wellbeing and I've put that into practice here at Marsden."  
International Background
Sarah joined the staff at Marsden in 2007 having worked in hospitality as well as teaching in Australia and the United Kingdom. While she grew up in Aussie, her mum is a Kiwi and Sarah always knew she wanted to come to New Zealand.
Sarah is a member of HETTANZ, The Home Economics and Technology Teachers' Association of New Zealand, and has been the immediate past president for the last three years. During her time in leadership the membership grew from 350 to 700 members. Through HETTANZ Sarah has been asked to speak and give support to other educators around the world. She also helped with the inception of the Review of Achievement Standards with the Ministry of Education. "I like developing innovative technology programmes with a focus on creativity and community networks. I embrace technologies in my year 7 – 13 programmes while focusing on skills in textiles adapting the Technology curriculum to respond to student needs."

Internationally Sarah presented a paper she wrote on her work here with tivaevae (Cook Island Quilting) in Korea to the International Federation of Home Economics. It was a paper rethinking Tivaevae as a model for community sustainability in textiles and she also presented it here at TENZ (Technology Education of NZ) in Christchurch. In 2018 Sarah went to India to study organic cotton production. In September 2022 she travelled to the United States to present in Atlanta Georgia at the Home Economics XXIV World Congress. She participated in a group discussion as a part of 'Human & Political Systems: Best Practice in Using Textile & Design to Drive Sustainable Consumption', and spoke on 'Rethinking Textiles Technology High School Education in the twenty-first century'. She then chaired the talk entitled 'Environmental Systems – Environmentally Responsible Practices of Teacher Education'. 
Commitment to Sustainability
Sarah's commitment to sustainability also shows through her work at Marsden where she created an annual school event called "Trash to Flash". Each year students spend a day partaking in a range of hands-on creative activities designed to upcycle and make the most of everyday resources.
Pippa Lawler of HETTANZ wrote of Sarah in her citation nominating Sarah for lifetime membership in the organisation, " Sarah has represented HETTANZ at an International level, helping to raise the Association's profile with sister organisations around the world. As a classroom practitioner Sarah has demonstrated imagination and innovation with integration of digital technologies in a number of areas.  She has undertaken professional development through study for her Master's degree to show her ongoing commitment not only to the profession but to the learning area of Technology."
Serving the Community
Another of Sarah's top character strengths is "Generosity" and one of the things she loves about teaching at Marsden is the commitment to serving the community. In her Y10 classes Sarah's students make Boomerang bags to donate in the community, create outfits for "Dress a Girl Around the World" a charity providing beautiful new dresses for girls globally, and knit squares to go to The Nest Collective to be turned into gorgeous baby blankets for families in need here in New Zealand.